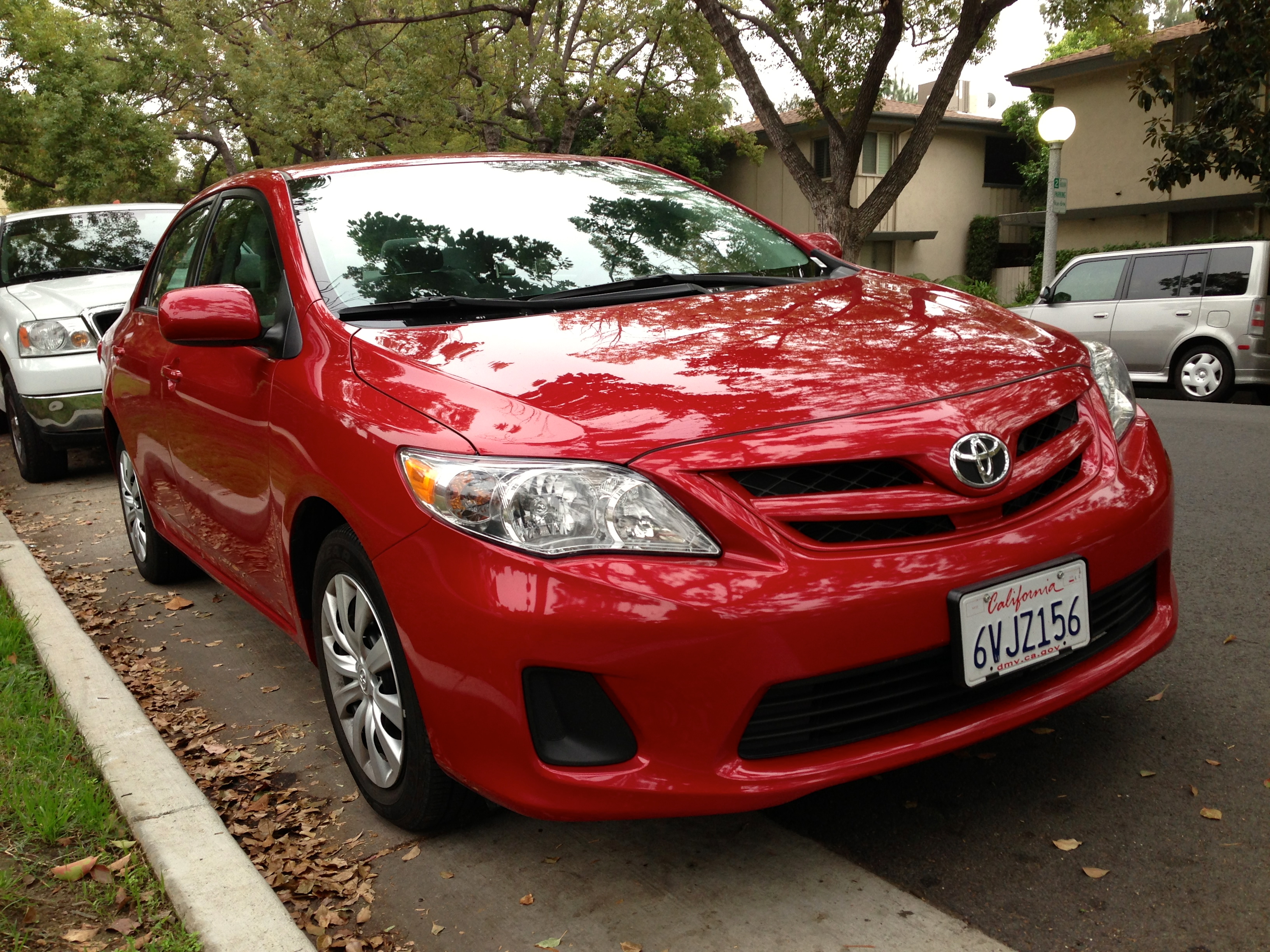 Auto journalists love to bash on Toyota products, but that doesn't seem to hurt their sales numbers. On paper, the Corolla is the laughing stock of the compact class. It's not as cheap as a Nissan, lacks the zoom-zoom handling of a Mazda, and looks downright dowdy next to a Hyundai. Yet somehow 313,009 buyers raised their hands in 2011 to park one in their driveway. Follow the jump for a quick drive and some impressions.
Exterior
The adage "lipstick on a pig" jumps to mind when I first saw the tester Corolla. Except it's a cheerful lipstick on a friendly looking hog. This car won't win any blue ribbons for styling, but it won't make anyone cringe either. Think unoffensive dialed up to 11. There's no silly flame surfacing, 15″ steel wheels, and a strip of chrome to decorate the trunk lid.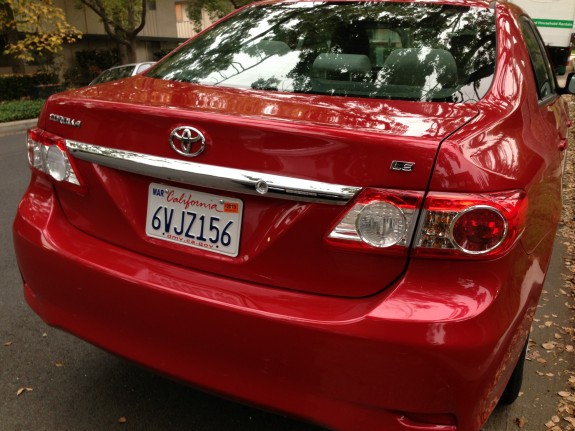 Interior
The basic cloth interior looks durable and provide a sofa like seating position. The cabin feels airy and simple. Ergonomics are fantastic with idiot proof buttons and dials falling near your hands. The backseat is also roomy for a compact, with surprising amounts of hip and shoulder room. The storage cubby in the center armrest is on the small side, but storage is otherwise readily available. Extra neat details include a 2 part glove box, and the ability to flatten the rear seats from the trunk. Materials throughout the cabin look like cheap hard plastic, and a quick finger tap will confirm it.
Equipment
Bluetooth, aux in, and USB lets you blast tunes through the base heavy audio system. It's a no-brand audio head unit, but thanks to a quiet cabin, it's easy to get into your jams. There's no voice control, navigation, or other tech toys to distract you from driving. Bluetooth can only be paired while the car is at a standstill, a big pain when traveling with multiple people with gadgets. When in motion, the pairing screen gives a very useless "Not available" message.
Drivability
A soft and floaty ride makes a perfect companion with the light and numb steering. If you're looking to tango, look elsewhere. This Corolla's meant for lugging you to and from work. 132 HP / 128 lb-ft of torque is lazily routed through a 4 speed automatic. Looking to row your own? A 5 speed manual is standard and gives you 1 MPG increase in city and highway (27/30). Mileage is disappointingly low, but understandable with the Corolla's antique hardware. At freeway speeds, I found the Corolla to be quieter and softer sprung than the much larger and more expensive 2012 VW Passat.
Value
With a roomy and quiet interior and low cost of ownership, the Corolla is a solid pick for a commuter car. It's main flaws are a dated design combined with a not-so-dated as-tested price of $18,975. Even buying the base model will set you back $17,025, enough money to consider newer contenders like the Ford Focus, Hyundai Elantra, and Chevy Cruze. Since it is an older design and model, there'll be some negotiation wiggle room. Even though it's near the end of it's lifecycle, the 2012 Corolla proves that newer isn't always better.