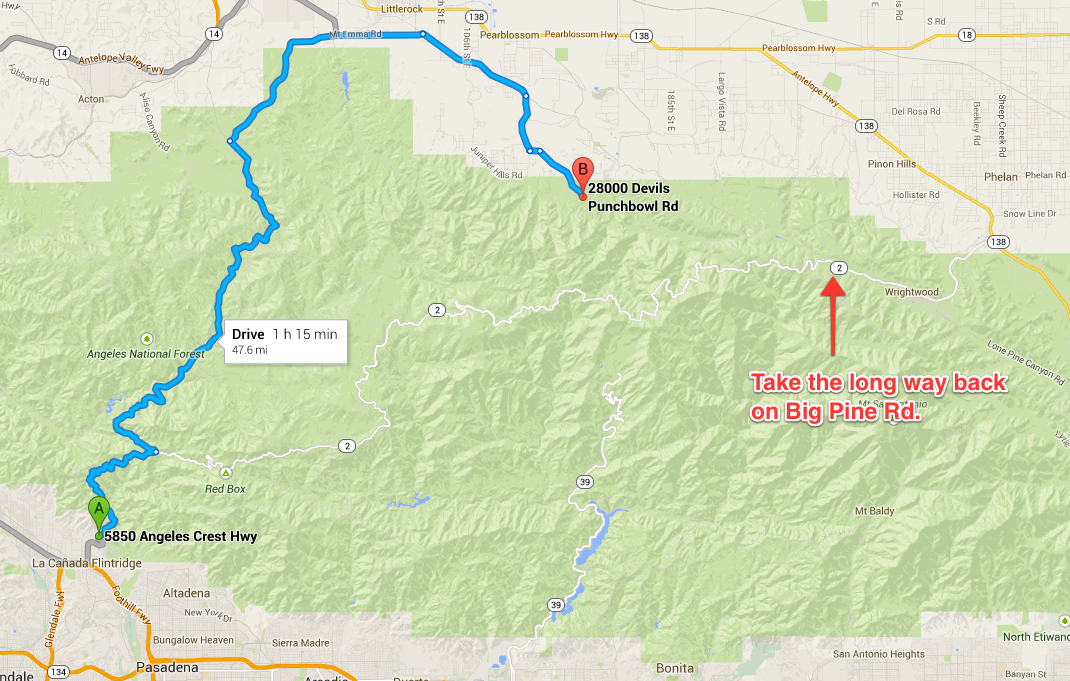 Pasadena was an uncomfortably humid 90 degrees yesterday. To escape the heat, my wife Wendy and I went for a drive out to Devil's Punch Bowl. At 4,700 ft of elevation with mountains nearby, my reasoning was that it had to be cooler than our apartment turned greenhouse. Sadly, I was wrong. Wendy grew increasingly unhappy as we drove through endless twisty roads further and further into nowhere. The car kept reporting a steady 97 degrees outside. In the last mile, the Devil gave us some slack and lowered the final temperature to 90 degrees, but still not the 72 we were hoping for. Fortunately you stepped out into this view:
Outside, it was much more pleasant than the temperature suggested. There was a cool desert wind, and at 3PM, the worst was over  and things were already starting to cool down. The small visitor center is packed with interesting display of desert snakes, honey ants (they make honey!), scorpions, and explanations of fossils and local fauna. We spent a half hour there listening to a pink and blond haired young man explain the local wildlife. From the visitor center, there is a one mile loop hike with great views of the surrounding area. Even cooler than the views are the small trails out to the actual Devil's Punch rock formations. Some skinned knees and dusty shoes are all it takes to scale up these bizarro looking things.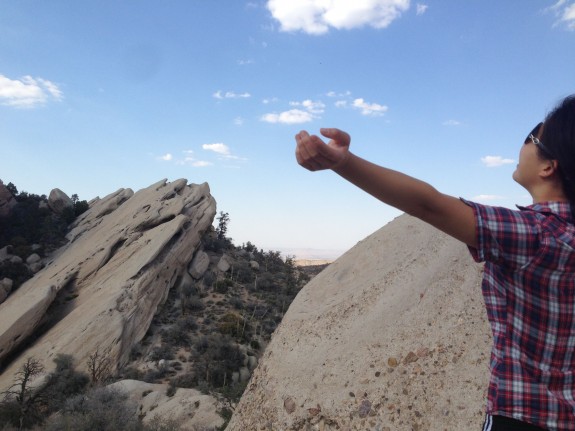 Climbing back down was much trickier and more time consuming, but a great workout.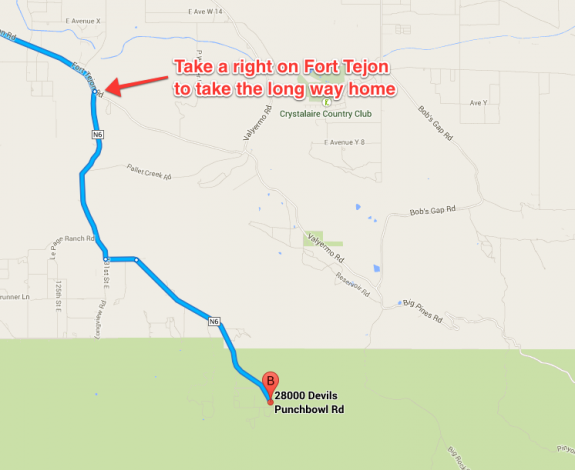 The drive in is gorgeous and reasonable length to do in a single sitting at about 1.5 hours departing from Pasadena. To catch some mountain views on the way out, take a right on Fort Tejon Rd and continue down Big Pine Rd, which will eventually intersect the 2 Highway. Elevation climbed up to 7,000 ft at one point, and temperatures dropped to a very pleasant 69 degrees. If you time your trip well, you'll catch some gorgeous sunsets and some great photo opportunities.