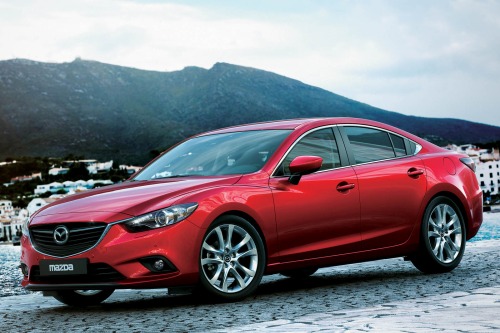 I hate shopping for clothes. It's tedious, and you never know what you'll get. Sometimes you find something that fits, but it's not on sale. Other times, there's 70% off, but all the good sizes are long gone. Now if you love shopping, this is all part of the game, part of the hunt. I hate the process, but at worst, you convert that ugly pair of jeans into work pants – no big deal. Cars aren't as easy going as jeans, and a helluva lot more expensive. Follow the jump for test drive notes for my top choices for my next car.
2013 VW Passat TDI
I was interested in the Passat because Ben recently got a Passat TDI SE manual. Prices are good, and resales on TDI engines have traditionally been good.
My wife pulled out of the spot, realized she could barely reach the brake pedal, and couldn't adjust the driver side mirror inward enough for comfort. Shortest test drive ever. Surprisingly enough, she has driven a 2.5S Passat before and was able to find a comfortable driving position. Our guess is the automatic seat adjustments has less travel than the manual seats.
2014 Mazda 6 Touring
Jerry's impressions
beautiful shape. Swoopy rooflines lead to an ungraceful bump on the head while exiting the car.
good low end torque. Pulls wells from a stop.
automatic is smooth and doesn't get tripped up.
manual gates were clearly defined. Clutch was very forgiving, but didn't have very much feel to it. Good for commuting, but not particularly fun.
materials are imitation luxury car level.
backseat is comfortable, nice satin trim pieces continue into the back.
cavernous trunk. Huge. Wish the gooseneck hinges were covered rather than exposed, but most people won't notice.
rear cross path monitor beeped at me when I was in reverse backing out into a busy street. Useful for crowded parking situations.
enthusiastic young salesmen. At times overly chatty when I was trying to focus on checking out the car. Cracked a few jokes about Kia/Hyundai owners that sounded too fan boy. Not a deal-breaker, but unprofessional nonetheless.
Ben's impressions
MT is trash. Shifter is very notchy, not confidence inspiring. Clutch is vague. Garbage top to bottom, doesn't hold a candle to my old 6′s tranny. A weighted shift knob would help. The clutch will stiffen over time. Better fluid might be an easy fix for the shifter.
Rear Cross Traffic Alert is damn cool. NHTSA is filled with idiots trying to mandate backup cameras while this is just flying under the radar. Morons.
Leatherette is beautiful, on par or I'd say better than VW stuff.
Some initial impact harshness
Tranny shifts a little too high for my taste, but I'm sure it just adapted to test drives.
Most say the dash screen is too small, to me it's just right. It's big enough to relay info without being a major distraction. The extra screen isn't well spent anyway – Dodge has 8.4″ but it's just cluttered with distracting bullshit graphics and unnecessary gradient background colors.
Very well packaged in terms of features at the right price.
2013 VW Golf TDI
Jerry's impressions
no available leatherette? Lame.
noisy. Tires, winds, other cars. Other compacts in the segment are quieter.
hefty steering and great steering. I enjoyed it, it felt strange to have heavier steering on a compact hatch than the 4200 lb behemoth V8 American sedan.
seats were ok. Nothing great, nothing awful. Adding an tartan plaid option from the GTI would at least spice things up a bit.
Ben's impressions
Drove a TDI 6MT a few weeks ago, did not drive DSG so this is passenger impressions of the tranny.
DSG had a few harsh shifts. Felt like it would go to max perform after hitting the kickdown switch, but the tranny had no torque converter to absorb the torque surge. So it just hit the pavement and jerked some heads.
Spun significantly higher revs than I recall the 6MT doing, and much more than my Passat. 2K at 65 vs. 2K at 75.
Too loud!
Rode fine considering sport suspension, similar levels of impact harshness to the 6.
Lunch break
Mama Lu's Dumping House. Delicious, and well priced. A perfect place to sit and argue over the virtues and downsides of each car.
2013 Dodge Charger R/T
Jerry's impressions
Cloth seats feel out of place in a $30k car. Couldn't own one without stepping up the the R/T Plus, or Road and Track package for leather seats. Bumps the MSRP up to $32k and $34k respectively.
Cooled seats = happy SoCal driver.
Widely spaced automatic felt lazy, but in a relaxed manner that fit the character of the car. Paddles and manual shift available, but almost feel unnecessary or out of place.
The next step in navigation is displayed in the trip odometer mini-screen between the tachometer and speedometer.
Rides well even with Road and Track package. Felt ridiculous to call the car an R/T R/T throughout the day.
More research available in my initial Charger post.
Ben's impressions
Cooled seats are awesome, work better than Lexus' rendition.
Auto pulls more RPM than I expected.
5 speed AT is fine, 8AT would drive me up the wall. You'd just hear the engine changing pitch all day.
Even with 3.06 gears, doesn't pull as well as I would have thought.
Very minor exhaust resonance, not as bad as the American V8 pickups.
This car would be a lot cheaper if they stopped making all the stupid versions. There's like 6+ different wheels, 4 or 5 types of upholstery, 3+ different interior colors, 2 different whites and 2 different reds. Not to mention 4 or 5 special appearance packages. NOBODY CARES, MAKE ONE DAMN GOOD CAR AND CALL IT A DAY. When you buy an Accord Sport you get 18″ wheels and a black interior. Any engine you want as long as it's the 4 cylinder. Was that so hard? Damn Americans.
Summary
Jerry
Mazda6 really delivers on value. Even without sales incentives, at $25,500 MSRP for the 6 Touring, there's a lot of car and features for the money.
The forces that be doesn't want me to own a VW. Sad, but hey, it's fate.
The Charger doesn't make sense, but I keep making excuses for it. Infatuation, or something more dangerous?
Dodge gets the award for most clueless dealers. I felt more like a salesmen for their cars than they were.
Ben
Mazda builds a great car. They're retarded for not building more.
Charger makes sense. You want a Mustang, need an SUV. This is in the middle. Or maybe a GC SRT8. Either one is fine. But the GC SRT8 is better.