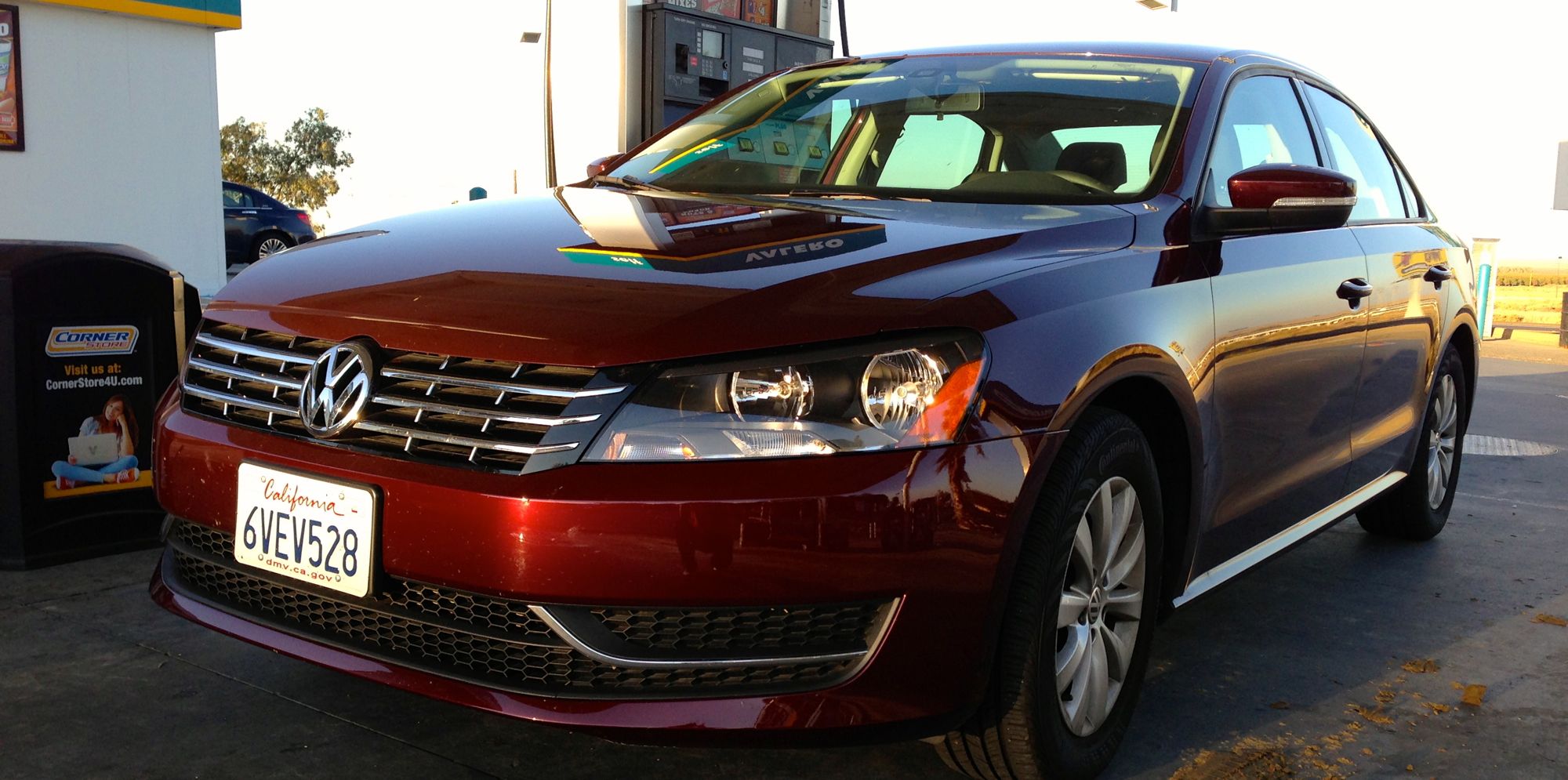 Here in 'merica, we like things big. Big burgers, big houses, big linebackers, big state fairs. To keep all that big moving, it's no wonder we love our big trucks. So when Volkswagon asked what Americans wanted in a midsize family sedan, we answered "make it big". After spending four days with a 2012 VW Passat 2.5 SE hopping between Los Angeles and San Francisco, it seems that the Germans have delivered a big car in more ways than one. Follow the jump to see how our super-sized Jetta fared on the road.
Big Sleep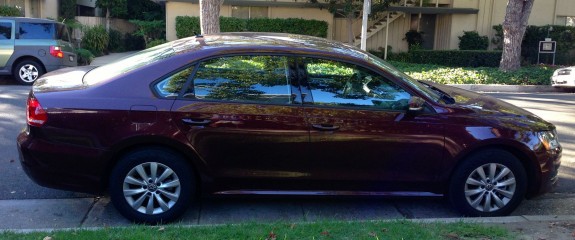 VW's bucking the current trend of swoopy exterior design in favor of clean and simple lines. While it won't make you do a double take when it rolls down the block like a poor man's Aston Martin (Ford Fusion), it also isn't a bland eyesore like Toyota's Camry. The Passat looks upscale with tasteful chrome accents and headlight details. I'm betting that this car will age very well compared to it's over and understyled competitors.
Big Sofas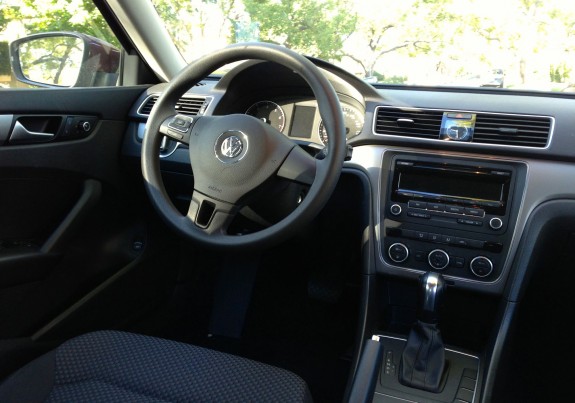 Sitting my 6'4" frame down in black cloth seats, I was easily able to find a comfortable driving position with the manual adjustments (fore/aft/tilt/height) and telescoping steering wheel. I had plenty of headroom and clear visibility all around. The extra width in the cabin really lets everyone sprawl out; No more bruises from fighting over the center armrest. If the front passenger space is big, then the rear passenger space is downright limo-sized. There's plenty of room for your heads, shoulders, knees, and toes. Unfortunately, VW forgot to supersize the cup holders in the rear armrest console, so you'll have to settle for a "medium" 30oz coke at your next pit stop. The cavernous 16 cubic-feet trunk holds two dead bodies in comfort, three in a pinch.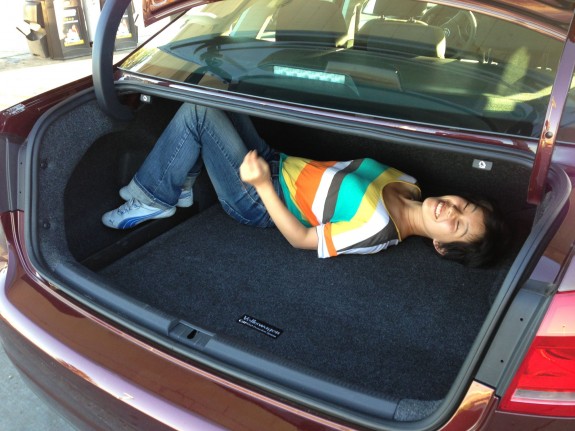 Big Athlete
The Passat may be big boned, but only tips the scales at a svelte 3266 lbs. The 170 hp, 177 lbs/ft inline-5 moved that mass with the help of a responsive 6-speed automatic. Sport mode livens up the go-pedal by holding revs higher, while drive smooths out the throttle for higher efficiency. No paddles are available with the 2.5L, but you can shift the auto in a manual mode with the shifter. The Passat's heavy and accurate steering is a perfect match with the suspension tuning. While it has no pretensions as a sports sedan, it feels rock solid and stable on freeways and gentle curves. The fuel economy is a respectable 22 city / 31 highway MPG for such a large car. I managed 32 and 34.5 MPG cruising 800 miles at 70 with the AC on. Out of the current family sedans, this is definitely my favorite to drive.
Big Safety
It shouldn't come as a surprise that this big cruiser has top crash safety ratings. It's an IIHS top safety pick and comes standard with six airbags. What is surprising is that AWD isn't offered. This'd make a great ski-trip car.
Big Annoyances
At this point, I imagine a group of German engineers high-fiving each other for cracking the code to what Americans want. But the single biggest disappointment with this otherwise fantastic car is how noisy it is on the interstate. Once it gets going, the wind and road noise really start a racket. It's not so loud that you can't carry a conversation, but it's loud enough to always be noticeable  The brakes were also difficult to modulate smoothly. Braking force doesn't feel linear to how hard you push the pedal, making the brake feel extra touchy . Finally, the cruise controls are embedded in the turn signal stalk instead of on the steering wheel. It's a small nitpick, but I found myself accidentally turning off cruise control when I really meant to cancel the current cruise.
Big Value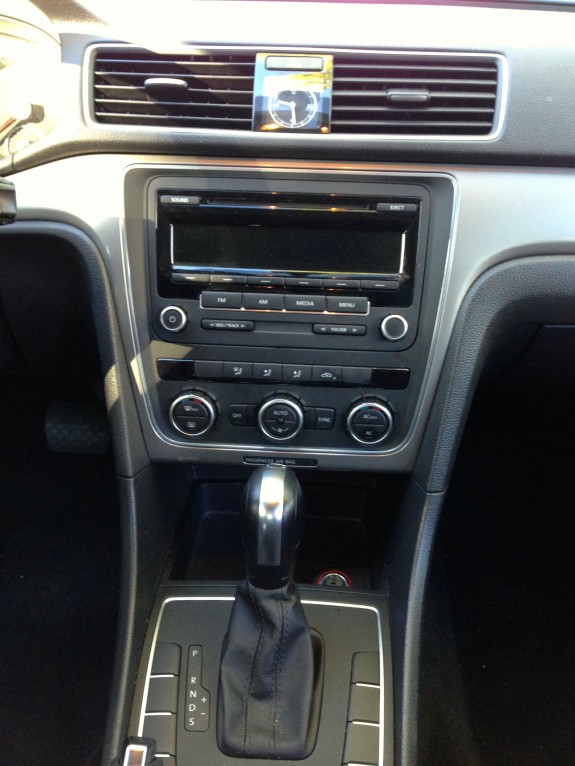 At $21,640 including destination, the base Passat S is a well-equipped and solid buy. Unfortunately, if you're not inclined to row your own gears, you'll need to drop an extra $2,100 to step up to the as-tested Passat for an automatic ($23,740). The appearance package also replaces the 16" steelies with 17" alloys, but that's a big jump just to get an automatic. Even with that big price jump, the Passat presents a good value if you're looking for a big freeway cruiser to fit the family. The base car has a well appointed interior with bluetooth audio, aux in, and cruise control. The tested Passat also had dual-zone climate to blast the ice-cold AC. Sadly, there's no rear air vents until you step up to an SE ($24,740). Splurging a bit more on options, the Passat can become outright luxurious.
Big Surprise
As an overall package, the Passat is an impressive ride. Think of it as a finely executed German-American fusion dish – the handling and tuning of a European saloon combined with a hearty helping of American bigness.