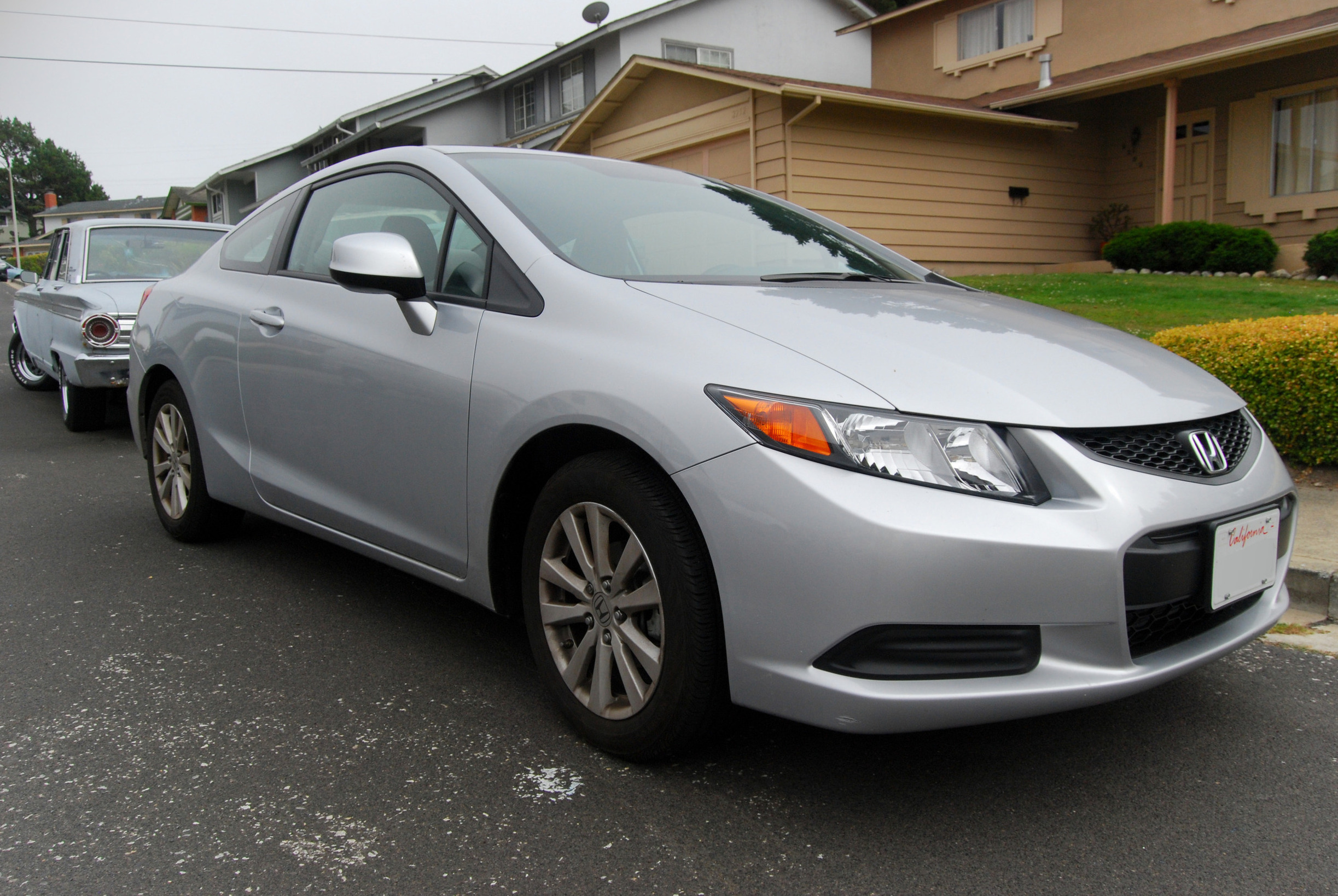 Honda engineers have been working overtime lately as a punishment for slacking off in the last few years.  Lackluster reviews of the new 2012 Honda Civic brought them a much deserved black eye.  The entire bash-fest was capped off by Consumer Reports pulling the Recommended rating from the Civic, due to it no longer keeping pace with the segment leaders.  Yet, as recently as August 2012, the new Civic was selling like hot cakes, with 60% more sold year-to-date than the hot Hyundai Elantra.  How bad could the car really be?  Could they really fool that many consumers?  There was only one way to find out – get behind the wheel of a 2012 EX-L Coupe with the 5-speed auto.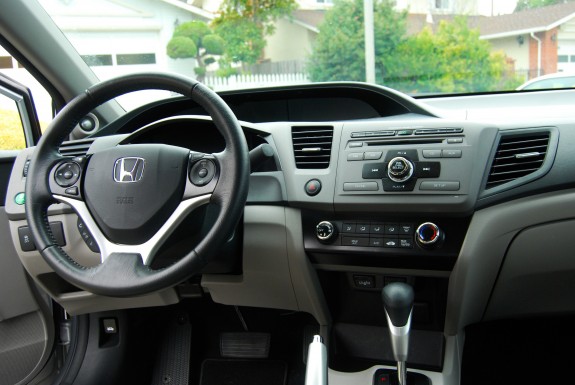 We've had experience with other Civics in the past, but this one seemed to be a little overcrowded inside.  Exceptions can be made for rear seat legroom – a compact coupe won't have much of it, and the Civic is par for the course.  However, the power drivers seat never got low enough to comfortably fit my 6'2″ frame under the moonroof.  That was surprising, since the vehicle didn't seem particularly low slung.  Looking beyond that, the rest of the interior seemed adequate.  For an MSRP of nearly $23,000, the plastics and leather seemed a little low rent, but the controls all fell to hand nicely.  There was nothing that took getting used to, everything was well laid out and within easy reach.  The dual-level instrument cluster that made its debut in 2006 is carried over largely unchanged, and we see why.  Never once did we feel flustered or confused while hunting for vital information, although no significant advantage was noted from placing the speedometer so much higher on the dash.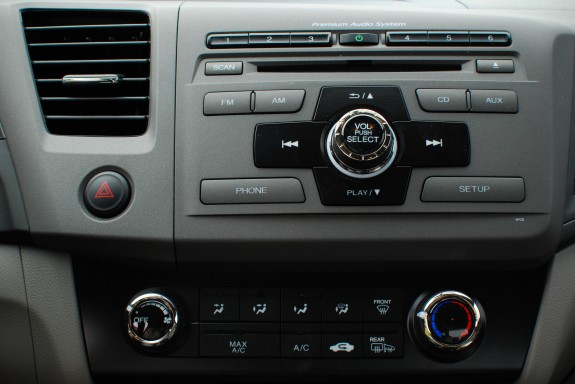 On the open road, nothing earth-shattering was noted about the dynamics.  The biggest complaint was a numb and heavy steering that was too darty on the freeway.  Otherwise, the drivetrain and chassis imparts a big-car feel – it feels every bit as weighted down as my 2007 Accord on the highway, with a settled ride.  The engine was sufficient in most cases, hardly ever requiring a venture over 3000RPM except on long highway grades.  We thought a 140HP engine would do better when pushed, but this vehicle could really use a bit more mid-range torque.  However, the responsive 5-speed auto does a good job of making up for the torque deficiency – it downshifts when necessary, yet pulls the revs down nicely during normal cruising for fuel economy.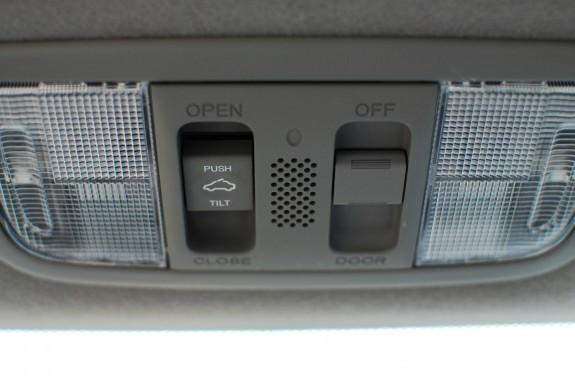 Even when the transmission decided it needed a downshift, the interior noise level never shot up to unreasonable levels.  In fact, the cabin was rather hushed for a Honda in terms of engine and wind noise.  It was let down by the hard, low-rolling resistance tires, but that is a Honda trait that is easily remedied with better tires.  When that day comes though, we expect that the fuel economy will take a hit from already low levels, even with the usage of the useless Econ mode.  On a trip from San Francisco to LA and onwards to Las Vegas, the Civic averaged only 33.36MPG with a high of 38.0MPG.  From Hesperia to Las Vegas, it achieved under 32MPG, a route that was recently accomplished by our long term 2012 Sonata 2.0T at 34.5MPG (return trip).  Considering the Sonata has nearly double the horsepower and was operating under 100% AC usage without any hypermiling techniques, the Civic's 39MPG highway rating has to be a real question mark for potential buyers.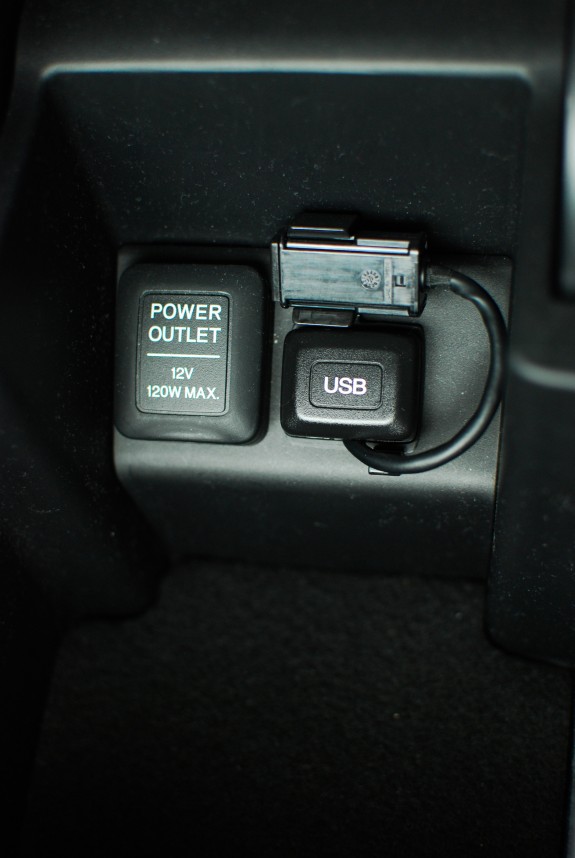 Overall, the theme of the Civic is just merely adequate.  It gets decent fuel economy from a decent engine, while being acceptably hushed.  The cabin was just barely large enough to be considered passable, the steering was connected to the front wheels, and the interior materials didn't disintegrate in your hand.  We end up having to agree with Consumer Reports on this one – we couldn't reasonably recommend this car over a base Honda Accord or another coupe in the segment.  It doesn't feel like $23,000 worth of special and it doesn't drive with the sprightly feel of Civics past.  Potential buyers may want to consider a Veloster or Elantra Coupe instead, which are both competitively priced with the Civic EX-L Coupe and get nearly the same highway MPG.