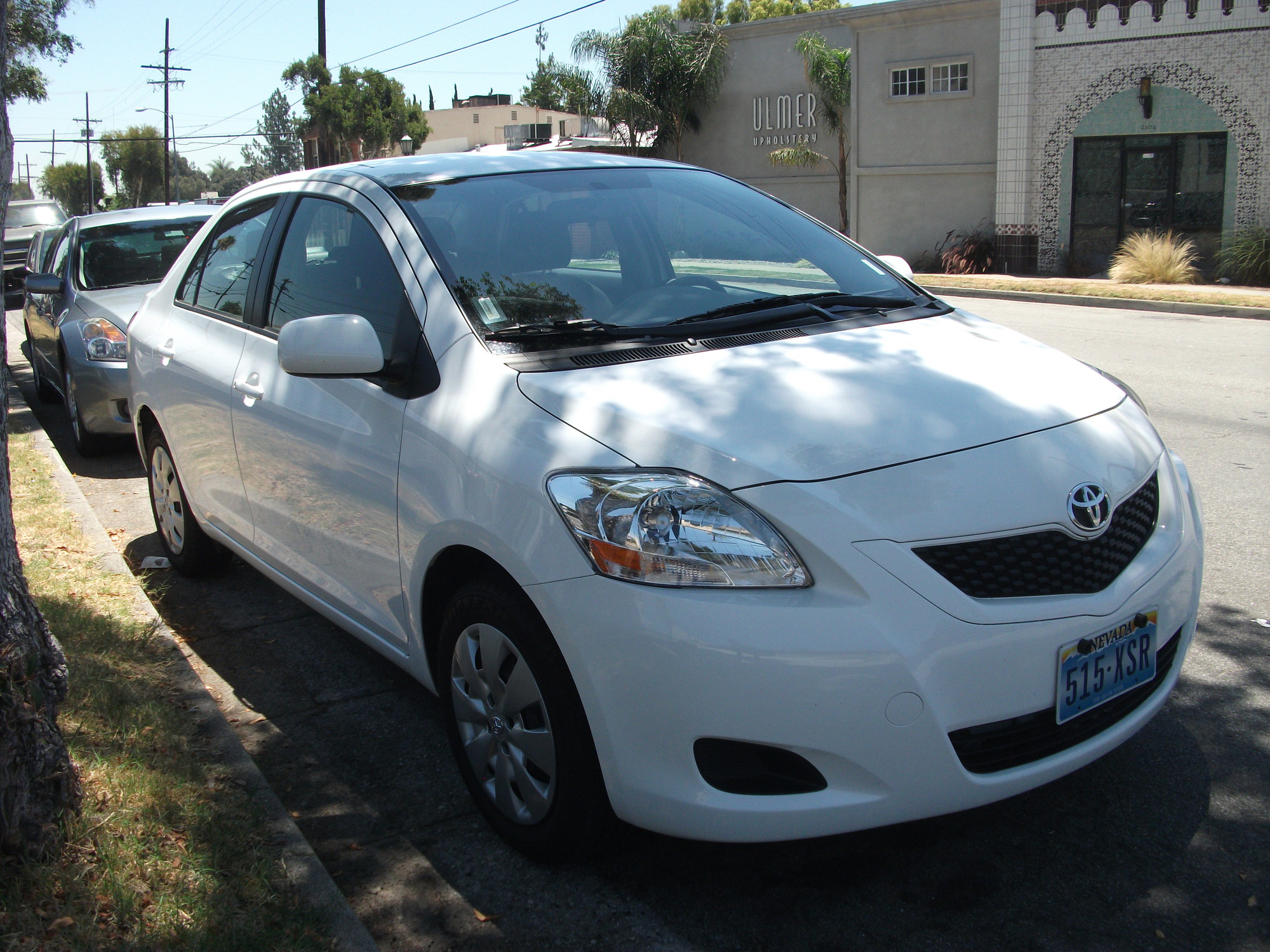 Toyota has built an automotive empire on reliability, and value for the money. But with midsize sedans cresting north of $20,000, and even Toyota's own Corolla retailing for more than $15,000, where can one find an affordable entry-level car that will safely move 5 people from point A to point B? The masterminds at Toyota have crunched the numbers and believe the little Yaris is the answer.
For 2012, the sedan Yaris has been dropped from the lineup. The only remaining body style is either a 3 or 5 door hatchback. However, for this post, I'm reviewing the 2011 Yaris sedan. Walking up to the white Yaris, I can't help but feel sorry for the car. Unlike other cars, the Yaris won't make passerbys do a double take when it drives down the road. It's not pretty, nor ugly. It's slow, but not offensively so. And it doesn't look like a good value on paper. Starting with a retail MSRP of $13,715, you got a sedan with an engine connected to four wheels. If you were cross shopping based on specifications alone, the 4-speed automatic paired with a 1.5L 106 horsepower engine isn't likely to perk you up.
But even though the individual components of this car doesn't stand a fighting chance against the competition, when they come together, it makes a surprisingly acceptable compact. The suspension transmits all of LA's road imperfections into the cabin, but the ride is never jaring and the car doesn't feel like it's rattling apart. There's plenty of noise from the engine, tires, and the wind, but passengers don't have to shout to hear one another. If it becomes too noisy, there's an iPod connector with a convenient power outlet right next to it. The engine is the same as the one in my xB, but feels more sluggish paired with the 4-speed auto. That said, the automatic is smooth and does its best to balance acceleration and fuel economy. The EPA rates the Yaris at 29 mpg city, 36 mpg highway. Those are impressive numbers consider it's missing two forward gears, and lacks direct injection.
At first glance, the interior isn't much to look at, but there are actually many thoughtful details and signs of good packaging throughout. The centered instrument stack is large and simple – tachtometer on the left, speedometer on the right, other details in a digital calculator display. The no frills PRDL shifter sits in front of the iPod connector, and power jack. There's even a hard armrest to rest your elbow on during long trips. To save space, the cupholders are mounted on the dash and double as cubbies that can be opened and closed with a push. Rear passengers are treated to cupholders of their own, one recessed in the back of the driver armrest, and the other in a fold-out rear armrest. Even if you're unfortunate enough to be riding bitch, you'll be happy to find a flat floor to rest your feet. The trunk isn't cavernous, but 60/40 folding rear seats give a large pass-through for IKEA trips. The AC blasts cold, and the ergonomics of all the instruments are idiot-proof simple.
The Yaris isn't the bargain hunter's dream, but after just a short drive, I found it surprisingly capable of making a case for itself. It's somehow more than the sum of its outdated parts, and comes together as a good general purpose car. It would make a great first car because of simple maintenance, and after driving it for a few years, the resale value is likely to hold up very well. After all, it is a Toyota.
Car courtesy of my friend Michael Bleigh, who doesn't care about cars and found the Yaris perfectly A-OK.