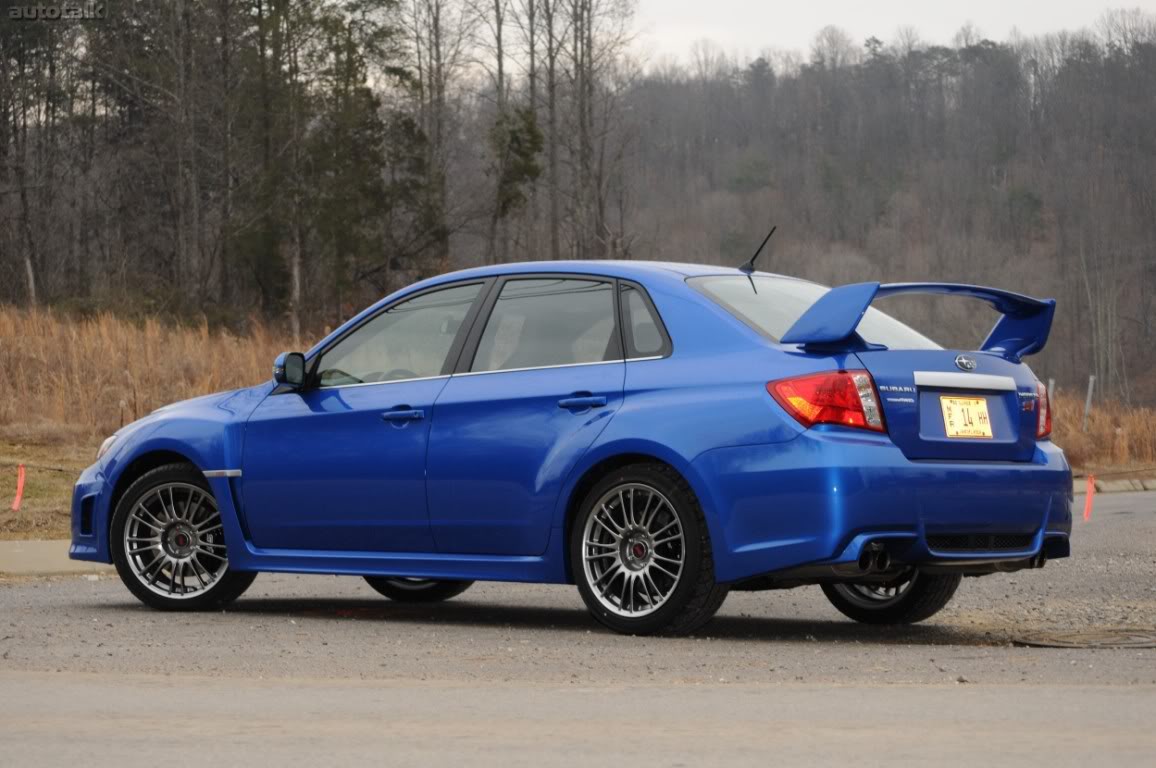 This is the first post in a series of articles on the search and long-term ownership of a 2013 Subaru Impreza WRX STi Sedan.
Like that of many teenage boys, my (realistic) dream car of choice in high school was the Evo. The first time I laid eyes one in the flesh, I knew I had to own one. The Evo VIII's vented hood, rocket ship performance, and trademark giant rear wing checked all the right boxes. Countless hours of my youth were spent/wasted lapping the Nurburgring and Laguna Seca with the Evo in Gran Turismo 3/4/5. So now, ten years later, why am I looking for an STi?
Fast forward to a few months after graduating college. With a growing bank account and no other financial obligations, I began looking for a new car. It just so happened that Mitsubishi was going to skip production of the Evo for the 2009 model year, and one of the local dealerships had way too many of 2008 Evo X GSRs sitting on the lot. So many, in fact, that they were willing to sell them at $7,000 under sticker. They even had the right color (Octane Blue Pearl) and the right options (Sight, Sound and Spoiler Package). With all the stars aligned, why did I pass on it?
I knew the 5-speed manual would drive me nuts. During college, I owned a second generation RX-7 with a 5-speed manual, and it was fine. I really didn't think I had any need for an extra forward gear. Unfortunately, what I failed to anticipate was that the 5-speed in the Evo has a very close gear ratio; 60 mph on the freeway in top gear translates to almost 3000 RPMs! With a 60 mile roundtrip commute everyday, that missing cog would be dearly missed. With a miserable 22 MPG on the freeway and relatively small 14 gallon fuel tank, I would get to know the clerk at my neighborhood gas station very well. Ultimately, I ended up buying a used BMW Z4 3.0si for about the same money, but I always wondered if maybe I should have just sucked it up and gotten the Evo.
Three years later, I'm in the market yet again for a new car. I now need something with four doors, can seats five, and is relatively safe. And again, I thought about getting the Evo.  In fact, the Evo X has gone under no real changes since the last time I looked into them. Unfortunately, the future of Mitsubishi in the US is quite cloudy, so again I decided  to pass on them. The new Ford Focus ST had just came out, and by all accounts it received rave reviews. I also found a 2012 Mazdaspeed3 going for $3000 under invoice at a local dealership, so that was a consideration as well. But in the end, I would up going back to the idea of an all-wheel drive street legal rally car (more on that later).
The only question that remained was: WRX or STi? On paper, the WRX seems (and probably is) the smart choice. It's venerable 265 horsepower mill has good usable power, it gets better fuel economy, it's $8000 cheaper, and with the 2011 refresh it shares the same widebody sheet-metal with the STi, sans the picnic table rear spoiler. The only black mark was it's  5-speed manual. Perhaps I was biased against the transmission going into the test drive, but I absolutely hated it. Shifts were very vague and spongy, and the throws were quite long and imprecise, even with the STi short shift kit installed. With the gear lever being so tall as well, I felt like the transmission was sourced from an old pickup truck. $8000 premium be damned, I knew I would regret it if I didn't get the STi.
Off to the interwebs to look for one in my favorite color, the famous WR Blue. Unfortunately, the only dealership in Northern California that had one was over 3 hours away, and it was the Limited model, which would have added an extra $3000 to the final price for stuff I really didn't need (leather seats, moonroof, and forged BBS wheels). The flow of STis coming in had also slowed to a trickle; the dealerships claim it's due to the  unfavorable exchange rate. Adding insult to injury, lead times for custom orders was on the magnitude of 12-16 weeks due to Fuji Heavy shifting most of their tooling to pump out the  new redesigned Imprezas. Interestingly, the upcoming departure of the WRX/STi from the Subaru line-up just made me want one even more.
Expanding my search, I found that a handful of dealership in Southern California had base WR Blue STi sedans in stock. Emails were sent, calls were made, negotiations were performed, tears may or may not have been shed, and soon I had a deposit put down for the exact car I wanted at $540 under invoice. As a sure sign from above, I was to be flown down to LA for a job interview that weekend anyways, so I could just drive the car back up.
So, why did I end up choosing the Subaru over the other cars that met my requirements?
Ford Focus ST
I may be in the minority, but I love the Tangerine Scream paint job. Pictures do not do it justice; it looks much better in person. I also liked the support offered by the Recaro seats that come as part of the ST2 package. Interior quality is very good for the price point, the transmission is pretty smooth and notchy in a good way, and the engine pulls hard whilst making an incredible (albeit artificial  noise. To top it off, it also has the practicality of being a hatchback. The only knocks against it was that it's front-wheel drive, and since it's the first model year of the car it's bound to have issues that crop up (FoMoCo hasn't exactly been a bastion of reliability over the last couple decades).
Mazda Mazdaspeed 3
The 2012 model was being heavily discounted, with an asking price at my local dealership of $3000 under invoice. Plus it's been around for a while, so most of the bugs should have been worked out. However, I'm not a big fan of the exterior styling, especially the smiley face front fascia, and ultimately the Focus ST is a newer and better version of the Speed3 (in fact the Speed3 shares the same platform as the previous generation Focus). I had a feeling I would regret not getting the Focus ST had I gotten the Speed3. As an aside, if the Mazdaspeed 6 was still being produce, I would have very likely bought that.
Honda Civic Si Sedan
While the engine may be underpowered and the car isn't exactly a looker, the transmission does a good job at making you forget all of that. If there's one thing Honda knows how to do best (and they certainly know how to do a lot of things well), it's how to make manual gearboxes. Unfortunately, the fact that it's so low on power and torque (even with the new 2.4L motor) and that it's FWD is just too much for the fantastic transmission to overcome.
Lexus IS250/350
I would have been really tempted to go for one of these, but alas the IS350 was never offered with three pedals, and the IS250 is now a two pedal only affair as well. Deal breaker.
BMW 328i/335i
Having gotten a 328i loaner on a number of occasions, it didn't feel all that special. The 335i loaners I got were better, and it makes a ton of power with no discernible turbo lag, but I just know I would regret not going for a slightly older E90 M3. As for why I didn't just do that, I'm going to have to park the car outside on the street, and I didn't feel comfortable about leaving an M3 outside on the streets every night. To top it off, BMW reliability isn't something to write home about (see: high pressure fuel pump and water pump issues).
VW GTI/Audi A3/A4
One word: reliability. A lot of people I've known who have owned late-model VW and Audi's have complained about their cars having all sorts of problems, both electrical and mechanical in nature. In fact, a friend who had recently purchased a new RS5 had to take it in for servicing due to a CEL just days after taking delivery.
Ultimately, the decision boiled down to one thing: what car have I always wanted? To be honest, it's the Evo, but all the quibbles I have with it (the transmission, Mitsu's future, safety, etc.) the STi seems like the smarter choice. In fact, to me it almost feels like a more refined and grown-up Evo, even with the boy-racer looks. Subaru's Symmetric AWD also helps if I need to move to the Northeast in the near future, and it makes a solid track day toy that can turn around and be a family car.