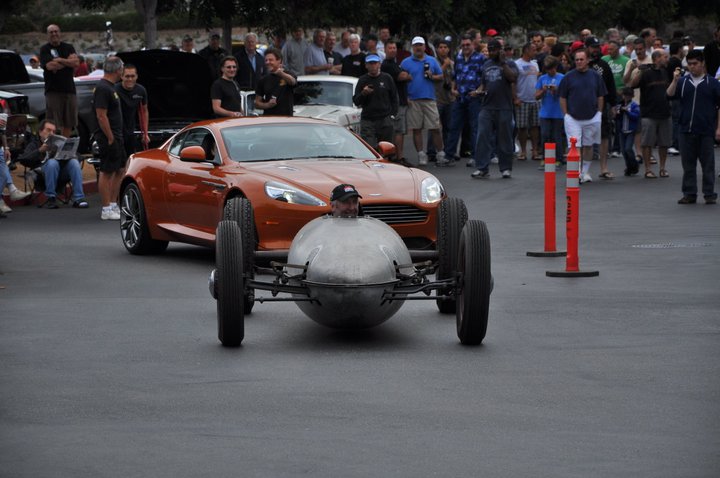 Last Saturday, I attended my first Cars and Coffee, an informal gathering of auto enthusiasts and their oh-so-sweet rides. While I was busy running from car to car like a headless chicken, Ben kept a level head an took some amazing shots.
Normally, any McLaren would turn heads, let alone a bright orange MP4-12C. But at C&C, there were just too many interesting rides to draw a crowd to this lonely supercar.
This McLaren got a lot more attention, but probably for the wrong reasons.
All engine bays were tidy and spotless. Luckily for this Ferrari, the original battery was replaced.
A fellow tall guy takes a break from this Ford GT40. Ben and I can't put a finger on it, but this GT doesn't look authentic to us for some reason. Is the the stripe? Maybe something else?
Godzilla also made an appearance. His whole family decided to join.
Godzilla's great-great-great-great-grandfather decided to show up to.
I'm excited about Daniel Craig in the next Skyfall, but I doubt he'll look as good as Pierce Brosnan in The World is Not Enough with a BWM Z8.
Tucked over in the back corner of the lot was this stunning gem of a CR-X.  It looks to be a US model that was converted to a full JDM Right Hand Drive setup, with many tasteful mods.  There wasn't excessive camber, gaudy wheels, or big spoilers – just little details around the car that made you smile.  It was no matter that the engine bay was never opened, it was beautiful enough from the outside.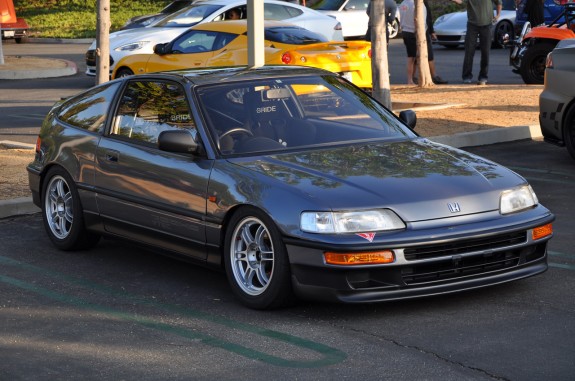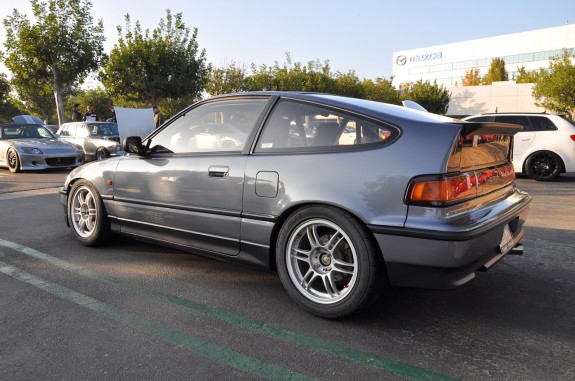 This thing has close to 10x the horsepower of my old xB. Not a fan of those bling wheels, but impressive nonetheless.
At first I thought some jerk had parked their plain-jane Range Rovers next to all the exotics, but then realized these were actually the updated 2013 Range Rovers.
This beauty sounds amazing… Even though it only managed 55 horsepower in its heyday.
I'm not sure why I love these old Benzes, but there's just a certain charm to them. When I see one of these on the road, I always imagine that I'd get along with the owner because understand taste and restraint.
The same can't be said about this Porsche Panamera.
I loved the color scheme on this Bus. I also love the idea of a vintage daily driver with tons of utility.
I had to do a double take to realize this was a Maserati. I think I actually prefer their old styling to the current design language.
Oh good lord! Decadent interior, candy red paint. This Cadillac really was a standard of the world.
It's nice to see an unmolested Integra. While it might not be that special now, neither was the Bel Air in its time.
A Tesla Model S pulled up at some point. While there were still some rough panel gaps, both Ben and I were impressed with the overall increase in quality compared to the Roadster. A red roadster was nearby for comparison.
A few other cars drew our eyes, but we'll let the photos do the talking.  The moral of the story is, it was worth waking up early to go to Cars & Coffee!  Remember to get there early – even as we got there around 7:45AM, there were already some beautiful cars leaving. For more photos, check out our facebook album.