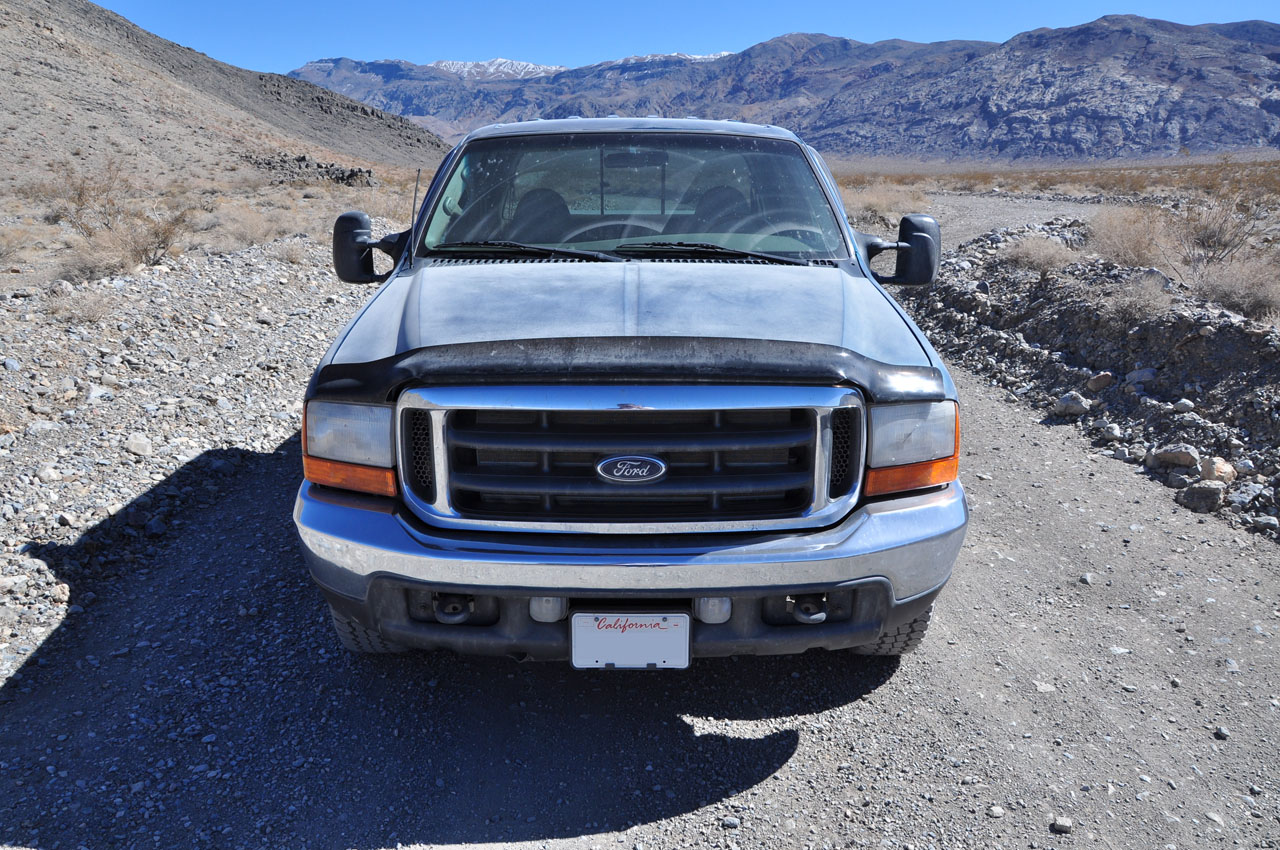 After dropping a good amount of money on maintenance and fixing up little problems, my bank account and I both were ready for a break.  It was time to stop nurturing Dixie (my truck), and start enjoying the ride.  Despite skyrocketing diesel prices, I threw my normally frugal nature to the wind and stretched the PowerStroke's legs on a few road trips.  The first was a mundane drive up to San Francisco for Chinese New Year.  The trip revealed a lot of things on the truck that really could use improving, most of them coming from behind the cab.  For one, I found that the fifth wheel hitch was really hogging way too much space.  I had a 6′ 9″ bed that couldn't haul much more than my Accord could.  Adding insult to injury was the fact that the bed light was rendered useless by the tonneau cover, not that it helped much in the first place.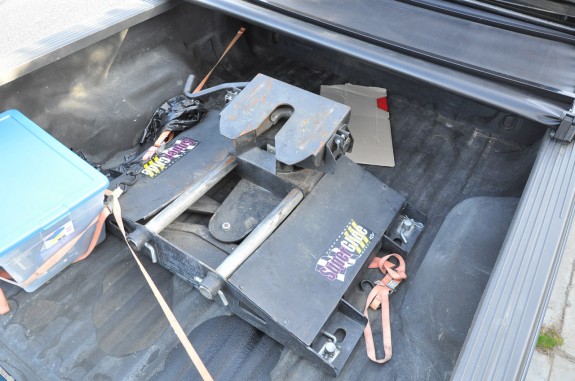 Luckily, the fix for all of this is amazingly simple.  LED light strips from China are cheap, so I ordered one and waited for it to arrive.  In the meantime, I got to selling off the fifth wheel hitch for a nice profit.  It was a pain to remove and it's been a pain to keep the truck bed clean ever since, but the extra cargo space is well worth it.  When the LED strip arrived, I hooked it up to power and used a special pin as the grounding point.  The pin was hooked up so that when the tailgate was closed, the ground would disconnect, and the light would go out.  When the tailgate was opened, the spring loaded pin completed the electrical circuit and allowed the light to come on.  It's an elegant system that requires minimal wiring and thought, and it has worked well so far.  The bed was finished off with a Stabilus tailgate strut, so that I could open it and let it fall gently instead of having it just plop open.  These mods were supremely cheap, with the lights and the strut coming in at under $50 for both combined.  Not a bad deal, all things considering.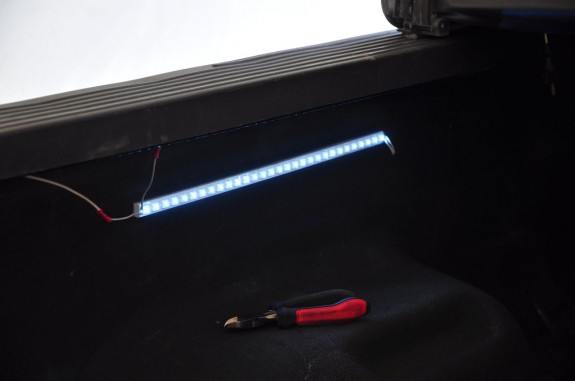 The second trip was to a place that I've always wanted to go.  The Racetrack in Death Valley is about 27 miles off the paved road surface, and its claim to fame are the rocks with trails behind them.  Nobody has ever moved them or seen them move, so it remains a mystery as to why they have trails.  I could have done the trip in the Accord, but sharp rocks and steep embankments would have meant certain harm to the wheels and tires in an inherently spooky place.  In fact, they recommend that only vehicles with off-road tires try this trail – it isn't very challenging (my 2WD was never close to being stuck), but I've seen the rocks cut open two tires on a Porsche Cayenne carrying only a single spare.  (FYI, most roadside assistance services do not tow if you are not on a paved road).  Now that I had a truck with off-road tires, I decided to give it a shot with some coworkers.  It turned out to be a beautiful place, but next time I will dump a few hundred pounds in the bed to smooth out the ride.  That way, my radio bezel won't be shaken off and the trip computer won't stop working halfway through.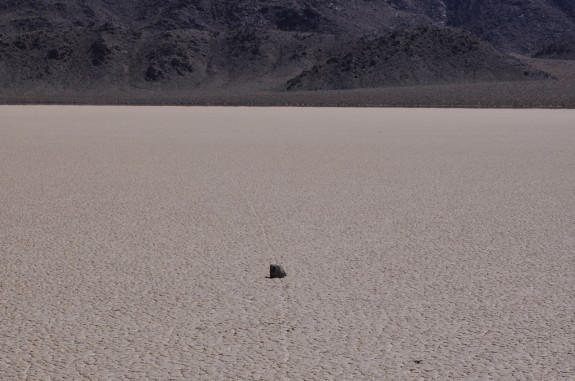 However, 60 miles of dirt roads can wreak havoc on paint.  So the next day, I spent a ton of time cleaning up the truck and realizing that it was just going to get dirty again soon, since it was parked outside.  I knew it didn't fit in the garage as is, but what would happen if I took off the bulky rear bumper?  It seemed like it would work, and all I would have to do is to get a roll pan for the truck.  Then it would fit in the garage!  The only way to know for sure was to try it, and that's exactly what I did.  Sadly, when I took off the bumper, I realized that the trailer hitch was also sticking out – and out it came as well.  I'm happy to report that with the truck's front bumper smacked up against the front of the garage, I had about 1/4″ to spare from the garage door to the tailgate.  However, it was still too close for comfort, and I wasn't going to drive a Super Duty with no trailer hitch.  Game over.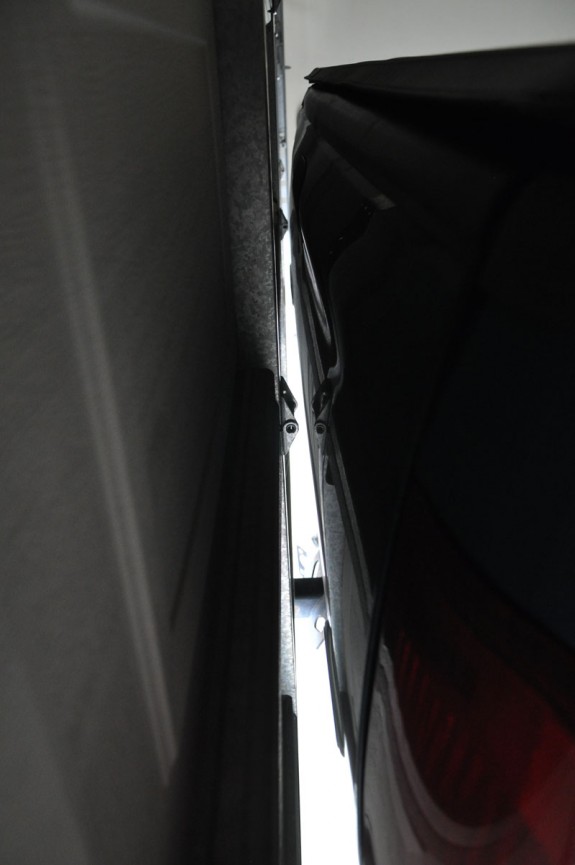 Finally, on my road trips, I realized that the fuel economy was great below 65mph, but piss poor above 70.  I could achieve 19-20 at 65, but I was at 18 by 75 and barely above 16 by 80mph.  That just wouldn't cut it, so I ordered a much ballyhooed tuner to see if it would really improve the fuel mileage.  With a tuner has to come a pyrometer, to prevent melting the engine under harsh conditions.  When the ISSPRO EV2 pyro and DP Tuner were installed, I was sad to find out that the tuner was sent with the wrong tune.  Due to a miscommunication, my truck now shifted into 4th gear at 2300RPM instead of 1600RPM – not saving much fuel there.  So back it went, just in time for me to head off on another road trip with a stock truck.  But that turned out to be a good thing – stay tuned to see why!