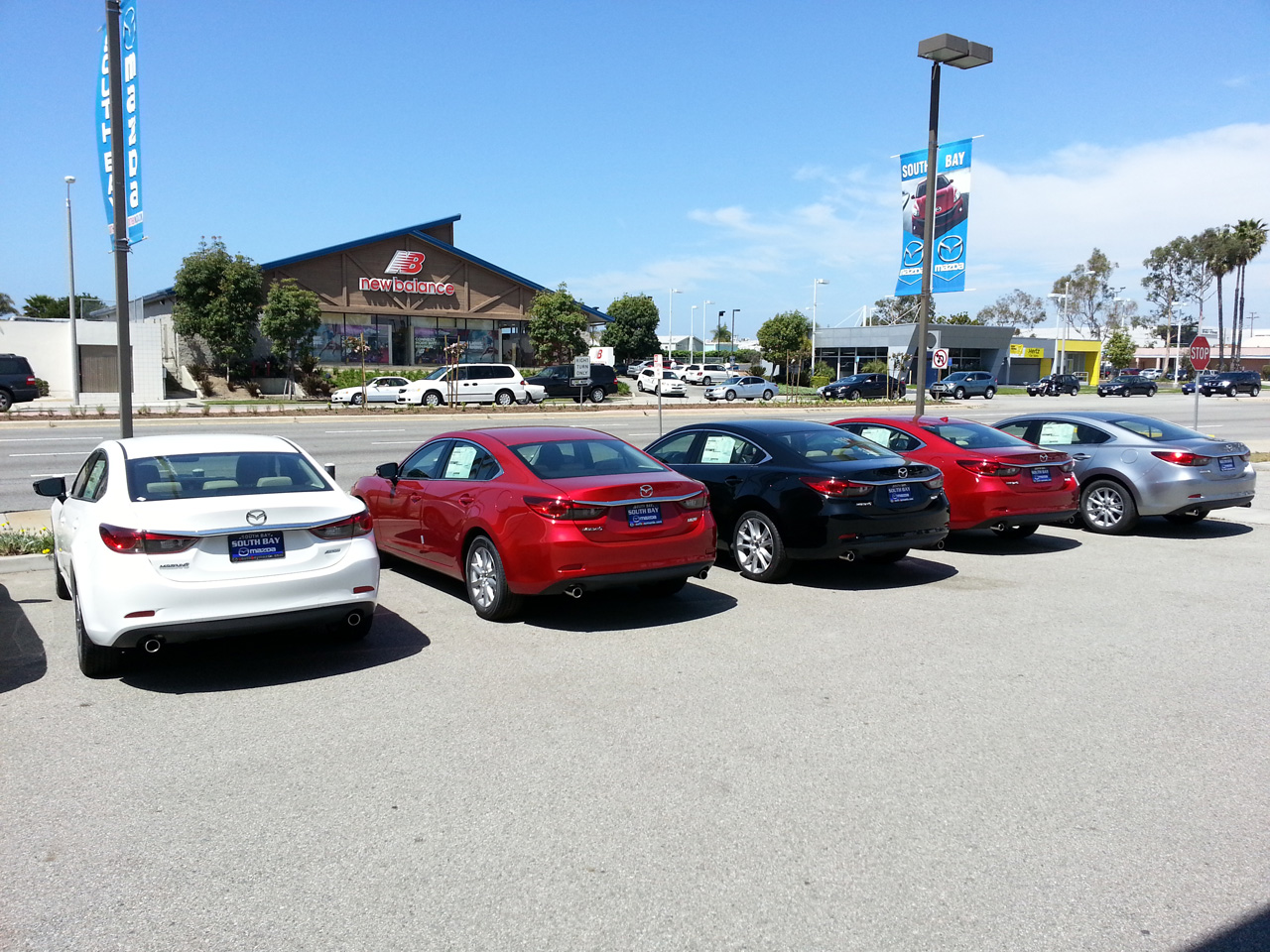 My trusty 2007 Honda Accord is getting long in tooth.  It is about to turn 140,000 miles as of this writing, and the features are certainly not up to date.  So when I rolled by a Mazda dealer and saw their stash of new 2014 6′s out front, I decided to stop in for a drive.  I wasn't sure what I was thinking, since I knew no diesels were in stock – perhaps the Bluetooth and Skyactiv gas drivetrain would impress me enough to trade for one?
First impressions are crucial, and the Mazda 6 looks even better in person than it does in pictures.  The Kodo design language works better than the garbled mess that was the last generation 6, and makes the car look athletic without being overwrought.  Inside, the interior layout was refreshingly simple.  I had just driven a 2008 Camry, and the difference in material quality was stunning.  Where the Camry was filled with cheap painted surfaces, the Mazda was overflowing with soft touch plastics and beautiful gloss trim that should have gone in a high-end Porsche.  Everything was logically laid out, and the return of knobs for HVAC and radio was definitely welcome.  Comfortable seats and an easy to read instrument panel work to reduce driver fatigue.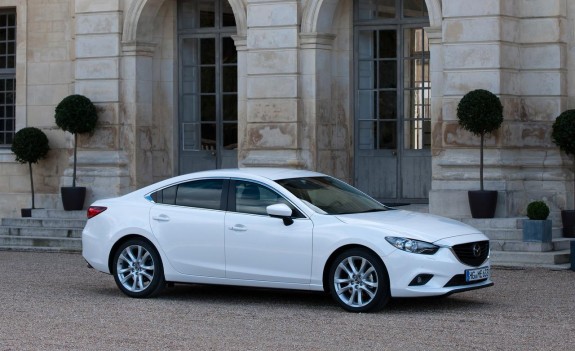 The relief continues out on the road, where the drive was noticeably more relaxed than some pretenders (we're looking at you, Camry SE).  The ride was well controlled without being floaty, and noise levels remained fairly hushed.  This came as a surprise, considering the Touring model wears largest-in-class 19″ wheels.  Those 19″ wheels also helped produce sporty handling, a Mazda trademark.  While I didn't get to push it too hard, it definitely feels smaller than its 191.5″ length.  Other details let you know that this is a driver's car, not an automotive nanny.  Although the Touring has features such as Smart City Brake Assist and Blind Spot Monitoring, the BSM can be turned off and neither feature proved obtrusive during our drive.  We applaud Mazda for the level of balance that they've achieved in this car, both in terms of dynamics and in terms of features.
The engineers have done a great job with the powertrain too.  Our particular model had the 2.5L Skyactiv-G paired to a 6-speed automatic transmission.  Shifts were handled smoothly and without drama.  Although paddle shifters are oddly not available on such a sporty package, the manumatic gate on the shifter followed drivers orders – it would stay in high gear even if the accelerator was pressed pretty far down.  That's a helpful tool, as some people might not like the transmission's tendencies to upshift quickly.  That tendency not only achieves better MPG but also takes advantage of the engine's amazing low end torque.  Don't believe me?  It produces 185lb-ft at just 3250RPM – the most torque at the lowest RPM among non-hybrid, naturally aspirated 4-cylinder gas engines in its class.  The 2nd place Accord has to settle for 181lb-ft @ 3900RPM from its Earth Dreams 4 cylinder.  Still don't believe me?  My 2004 Mazda6 had a 3.0L V6 and it only produced 192lb-ft at 5000RPM.  That means the SkyActiv-G engine is producing V6 levels of power (of a decade ago), and it shows with great pull at low RPM's around town.  All this, while getting 38MPG – sounds good, doesn't it?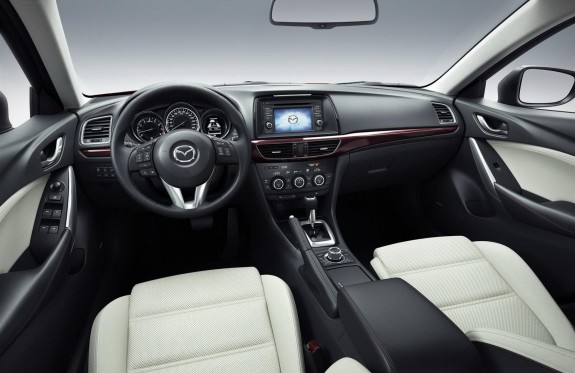 Downsides?  Sure, there are a few.  The Sport and Touring driver's seat is only 6-way adjustable, meaning it only has a pseudo height adjustment.  Instead of making the entire seat go up and down, they decided to have a hinge on the front of the seat.  The height adjustment only pushes the back portion of the cushion up and down, while the front (where your knees are) simply pivots in place.  For a driver's car, the driver's seat adjustment is an odd place to cut.  Because Mazda chose to spend money on other technologies like Adaptive Bi-Xenon headlights, the infotainment is also severely lacking.  While most competitors offer 7-8″ touch screens with navigation, the Mazda makes do with a 5.8″ screen.  While there is a USB port, smartphone integration is nearly nil.  And for such a long vehicle, the back seat doesn't provide as much legroom as a CamCord or Passat, though it's similar in size to the Fusion.
So the big question is, will it sell?  We have our doubts – Mazda advertising has been lackluster and market acceptance is tough in this segment.  While there's no doubt that it's a great car, we fear that the out-of-the-ordinary options and lack of a premium engine will doom it into fleet-car status, just like its predecessor.  Time will tell, and we hope that diesel is a stunner – it might be Mazda's saving grace.