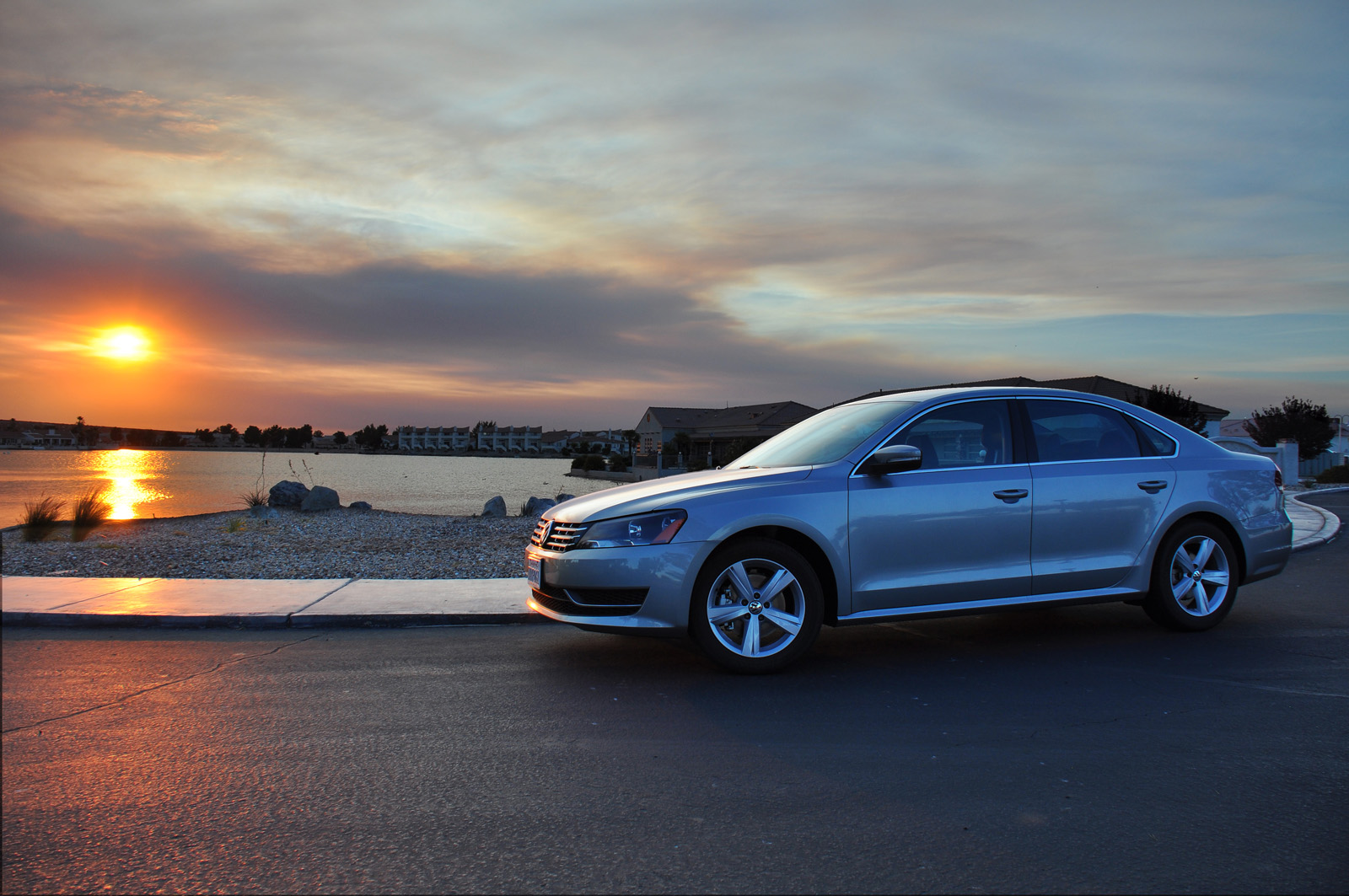 After months of bad luck with my 2007 Honda Accord, I decided that it was time for a change.  I had dealt with the Accord for a while, and it just wasn't my favorite car.  When the clutch refused to disengage 180 miles from home, that was the last straw.  Bent rims and tickets are one thing, but a clutch issue could have left an average driver stranded.  I limped it home with every trick in the book and started thinking about my next move.  I fixed the clutch issue and sold it off fairly quickly for a great price, but I sold it in San Francisco – 400 miles from home!  I only had a couple days to come up with a solution or drive our trusty road trip vehicle temporarily.  Figuring that driving 20-25MPG trucks and vans would cost me an extra $200 per month, I decided to go take a look at the new VW Passat diesels.  I had driven them before, it just came to an issue of price.  I managed to haggle them down to a great price, and they got me a vehicle, and the rest of the story still needs to be written.  The important question is, how does it drive and compare?
Drivetrain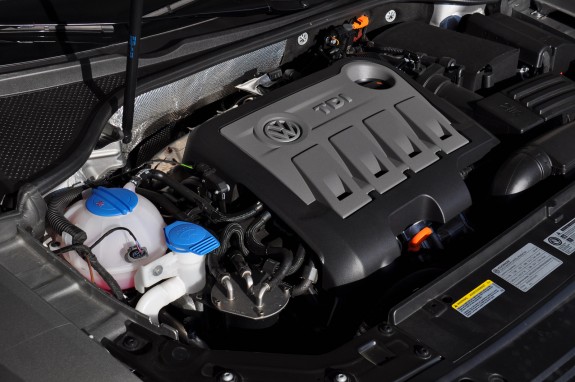 When I was looking for a car, I specifically looked at cars with great gas mileage.  My Accord had accrued over 70,000 miles in slightly over 3 years, so if I had to pay lots of money for a new car, it should at least be frugal at the pump.  While the 2014 Mazda6 has a great 2.5L SkyActiv-G engine, it won't hold a candle to the 2.0 TDI in the Volkswagen.  Mated to a 6-speed manual, the turbodiesel will produce 236lb-ft at just 1750RPM – this despite having 2 catalytic converters and a Diesel Particulate Filter (DPF).  The ability of this drivetrain to climb mountains at low RPM's is shocking – it will climb Grapevine, Pacheco, and Cajon Passes in 6th gear at under 2000RPM (~75mph).  On the highway, it maintains a fairly constant 40-45MPG, despite driving at 70-80MPH with massive headwinds at times.  The DPF Regeneration process is also very seamless, maybe too seamless – I would have preferred it to warn drivers when regen starts, so they can decide whether they really want to shut down the car right now.
That doesn't mean it's a flawless drivetrain though.  While great for producing torque and fuel economy on the highway, the drivetrain is not well suited for in town driving.  First gear is too short, the 1st to 2nd RPM gap is huge, turbo lag is evident below 1200RPM, and some NVH penetrates the cabin above 2500RPM.  Anything above 4000RPM is completely useless – there is virtually no power from 4K to the 5000RPM redline.  Torque is significantly reduced below 1500RPM to control emissions, making it hard to launch from a stop.  No warnings are given when the engine is about to stall – no vibrations, no weird noises.  It just dies, and you'll need to completely shut the car down to induce the starter.  This is easy for cars with a metal key (like mine), but with cars that have Keyless Start (KESSY), it's a very time consuming ritual in traffic at a stop light.  Forum members also complain about hesitation and jerkiness on cold starts.  This is likely produced by an exhaust back pressure valve, which helps to quickly warm up the engine.  That valve should be open once the vehicle starts moving, but emissions standards likely require it to remain at least partially closed until the engine is warm.
If you're sharp, you might realize that most of my drivetrain complaints center around the 6-speed manual transmission.  You might wonder why I picked it if I hate it so much?  That's a valid question, and it's simple to answer.  The manual isn't as bad as I make it sound, with the clutch and shifter both having acceptable feel.  The biggest reason is that the "automatic" is truly an automated manual (DSG in VW speak).  Not only does it present its own set of compromises in city driving, it also requires about $400 in labor and parts every 40K miles to maintain it properly.  For me, it was senseless to buy a vehicle to save fuel, and then pay some of those savings back out in maintenance.  Sure, $400 on a $27,255 car isn't a huge bill, but a $400 DSG service at 40K, a $1200 timing belt at 130K, $500 brake jobs every 40-50K – these things add up and car companies won't do anything about it if we just roll over and pay these exorbitant sums.  Thus, I feel better about buying a manual as a protest against ridiculous maintenance costs.  Plus, the manual suits me better on highway drives, which accounts for 95% of this car's usage.  So, I'm really only compromising 5% of the time.
Interior
The interior was one of the reasons I liked this car over its competitors.  I carry friends on a regular basis, and the large trunk and rear seat are very appreciated.  VW's famous CarGo blocks are ingenious and I had to have them in my trunk.  The interior materials are well picked and look durable, while the design is typical German – simple and elegant.  Many people chastised the interior for being too simple, but I much prefer real knobs and buttons to the gimmicks like MyFord Touch.  Niceties such as comfy heated leatherette seats and Sirius satellite radio on the in-dash screen are included even in the base TDI models.  Caveat emptor, although the leatherette looks fine in black, it can look very cheap in lighter colors.
After spending lots of time inside the car though, I have managed to drum up a lot of small complaints.  The side sills are wider than necessary and flare out, making entry/exit tougher than it should be for a family sedan.  It is absolutely impossible to tell where the back of the car ends – there are no visual guides, and you can be 3 feet away from the wall and think your rear bumper is kissing it.  The dead pedal is extremely misplaced – it needs to be further away from the driver so that s/he can stretch his/her legs while not using the clutch.  Instead, it's lined up with the pedals.  The pedals and steering wheel are also misaligned with the seat – you have to skew your arms and legs towards the center of the car to use the controls.  And, why does that cheesy analog clock exist?  The time can be displayed in the instrument panel and on the in-dash screen – the analog clock is clearly just a filler.
As with many other vehicles, the in-car electronics are antiquated.  The Premium VII sound system and RNS-510 Nav/Sound (N/A on my vehicle) sound great, but both are very slow to respond to inputs.  Even when switching songs stored on a super-fast Class 10 SDHC card, there would always be a pause.  With the advent of smartphones and tablets that can do more/faster for less money, you have to wonder why car makers are so behind on the times.  My biggest nitpick is with the Sirius satellite radio.  Initially, I thought that having the music pause was normal, since I was heading through some tunnels and under some rather large overpasses.  Then I started noticing it cut out when passing by street lights and overhead Interstate Highway signs.  That's pretty ridiculous, especially considering local radio stations have superior sound quality (that's a Sirius problem, though).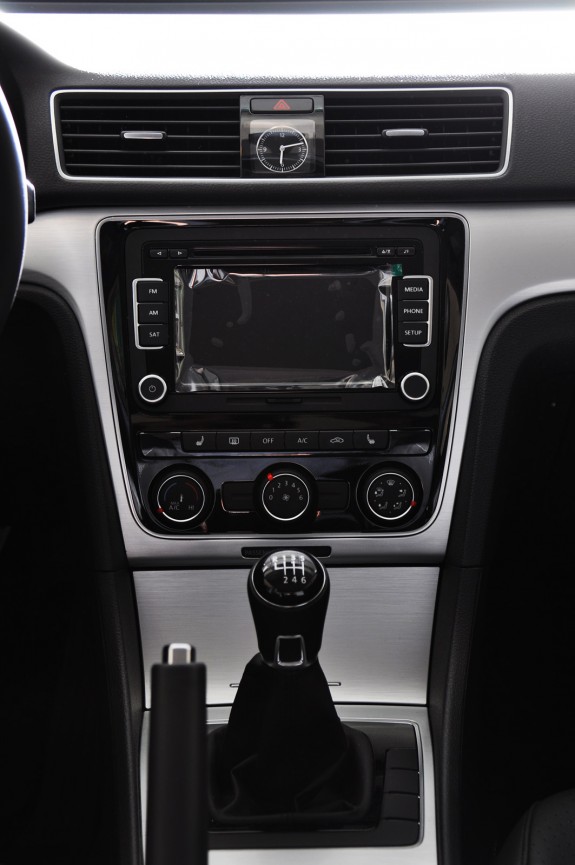 Finally, a gaggle of information is available in the Multi-Function Indicator, but the coolant temp gauge is simply a dummy.  I reckoned that since the needle stayed at the gauge midpoint (which is marked "190″), that the engine was just running 190F when warm.  In fact, the OBDII port data indicates that the TDI runs at 201-205F, and can get up to 233F under certain conditions.  The "190″ marking?  The gauge hits that mark when coolant temperature is only at 160.  Talk about false advertising…
Ride & Handling
The car magazines seem to agree that the Passat handles better than many other midsizers in the segment.  After driving most of the competition, I'd have to disagree.  The Mazda6 and Honda Accord both feel sportier than the Passat.  The beautiful 3-spoke steering is properly weighted and feels wonderful to hold, but feels only slightly livelier than a Camry.  Then again, most dead fish are livelier than the Camry.  At least the steering box is fairly intuitively geared and accurate.  Any doubts imparted by the steering are removed by the brakes, which work more linearly than in some Japanese cars.  It's a pleasure to have brakes that work this well, and hopefully these won't warp over time.
Of course, the Passat is designed to be a great highway cruiser, and the cushy ride is evidence of that.  Body motions are well controlled and wind/engine noise is not generally an issue.  The only time the car really speaks up is on rougher sections of road, but we think that the Hankook tires are the most likely culprit there.  It's not bad enough that the audio system won't overpower it at will, but it is definitely a contender for one of the loudest cars in this field.  Overall, it is a great car for driving all day, eating up long portions of road well into the evening, without arriving fatigued – something I have never experience before.