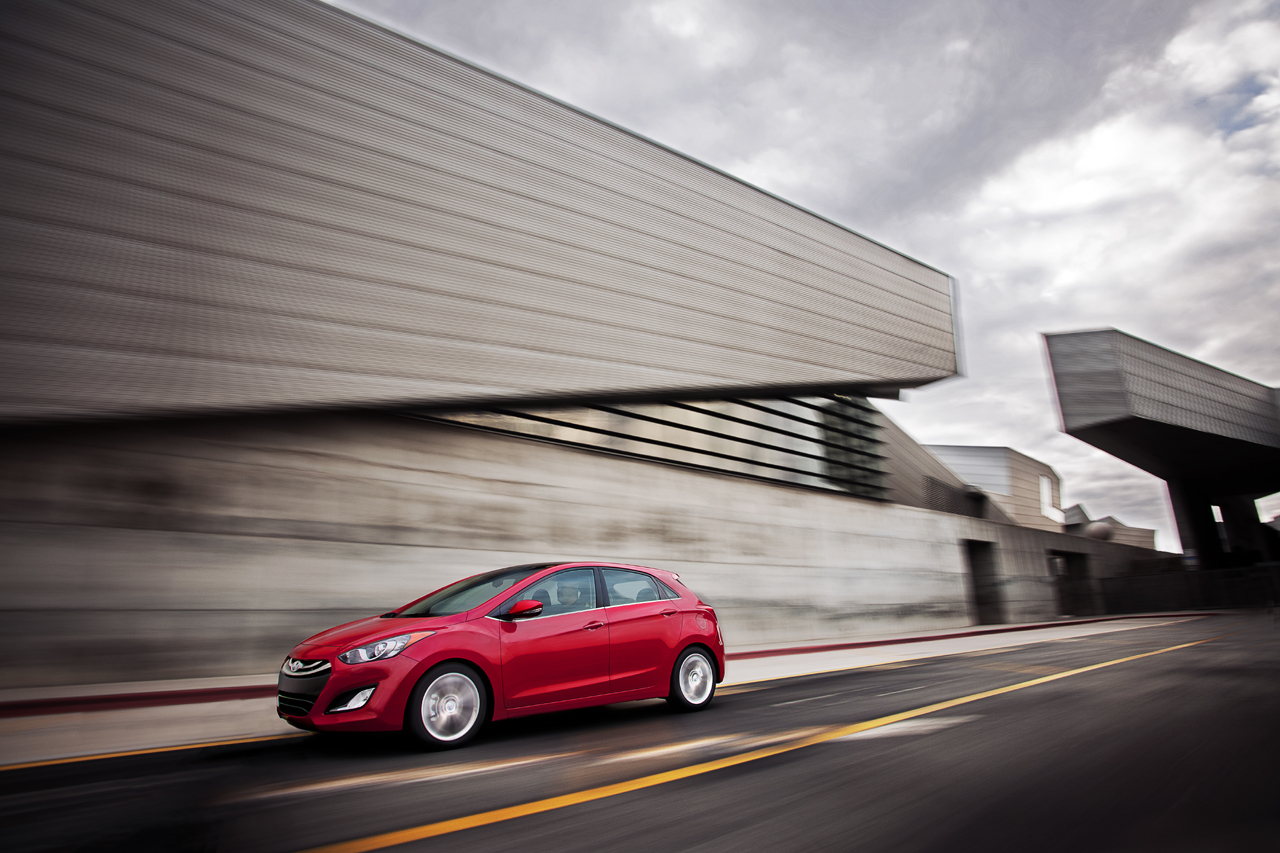 Hot off the heels of the North American Auto Show, Hyundai unveils two new Elantra variants, the Coupe and the GT hatchback.  The coupe is the less exciting of the two, looking identical to the sedan unless lined up side by side.  Nonetheless, it will join the Kia Forte Koupe in the fight to win over Civic loyalists.  The hatchback GT replaces the old Elantra Touring model with a svelte looking hatchback.  Follow the jump for some first impressions.
Americans have a long history of disliking hatchbacks.  While the previous statement is still true, several automakers are banking on the fact that the tides are turning.  Players in the compact and subcompact class like the Focus, Sonic, Accent, Rio5, and Mazda3 all offer high utility hatchback variants of their sedan counterparts. Across the pond, Europeans are clucking their tongues that the colonies have finally started to care about things like fuel economy and utility.  The GT will be offered in Europe as the Hyundai i30, an almost identical looking car. The main difference in styling is the front fascia, where the i30 wins extra points for a more mature look.  The GT doesn't look as bad as the joker-smile Mazda3, but it's still a bit cartoonish for my taste.
Hyundai's main selling point is high value and low price. That trend continues from the exterior into the interior.  The symmetrical center stack looks intuitive with redundant buttons for some of the features accessible through the touchscreen. Upscale touches include aluminum pedals, including a dead pedal, and an optional mini-fridge in the glove box.  Expect dash surfaces to be semi-hard to the touch, but textured and good looking.
Unlike the well put together interior, the engine bay is a sea of generic grey plastics. The engine is a 1.8L 4-cylinder producing 148hp / 131 lb-ft of torque. While no dragster, it doesn't have very much weight to lug around with the curb weight listed at 2,784 lbs. My 2006 Scion xB is a couple hundred pounds lighter, but like dress size inflation, 3K lbs is the new 2.5K lbs. Hyundai gets kudos for going on the diet and making a sub-3K compact. With a light chassis and it's fluidic exterior styling, both variants will sip a gasoline for every 39 miles on the highway. I'm surprised the coupe could not eek out one extra MPG to make an even 40MPG with its more aerodynamic teardrop shape.
The editors of this blog are big cynics of Honda's recent products and strategies. The new Elantra Coupa and GT throws another gauntlet at Honda's aging lineup. With as high utility, low prices, good safety ratings, and a ten year warranty on Hyundai models, Honda should be in full out panic-mode and lighting a fire under their product development teams.