Unlike most aspiring automotive journalists, Jerry and I both have a soft spot for the family minivan.  Usually, I favor the Honda Odyssey.  They've got their share of issues, but their reflexes are a little more responsive.  That being said, no amount of bribery or alcohol would coerce me into buying a 2011+ Odyssey.   The fact that it lags behind its competitors in the powertrain department doesn't bother me as much as the idiotic styling.  I stay away from these things on the road, because their drivers are surely blind.
So when the lady at Avis Rent-a-Car in Skagway, AK pulled up in a 2011 Toyota Sienna with my name on it, I became the first person to smile at seeing a minivan.  Here was my chance to wring it out on an extended test drive, no salesman attached, and see what my alternative is going to be when I buy a van down the road.  We loaded it up with 6 adults and 2 kids, some light luggage, and aimed for the famed 3293ft White Pass towards Carcross in the Yukon Territory.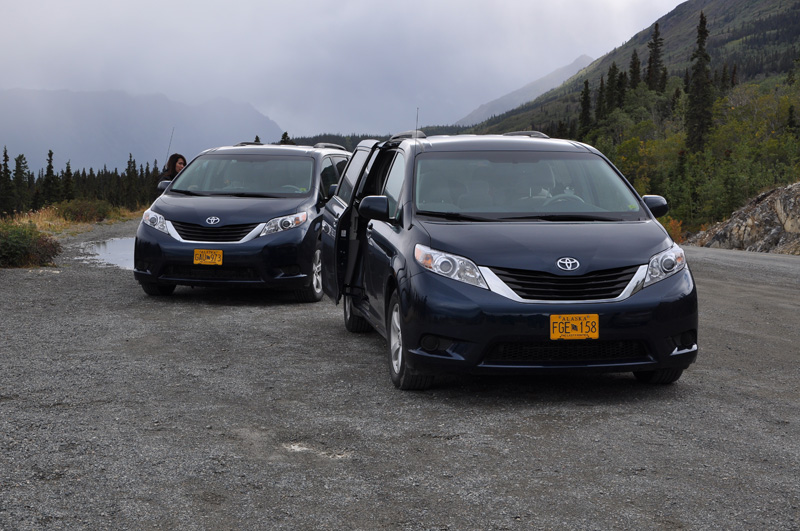 The interior quality is, in typical Toyota fashion, a step down from the previous generation.  Hard, cheap plastics abound everywhere.  There was a light gray dash topped with a black shift knob (is gray dye really that expensive?).  When the steering hit the end of its travel (ie. when doing a tight u-turn), it produced a loud unrefined clunk not present in older Toyotas.  The steering wheel trim already had a tiny bit of play in it – unusual for a vehicle with only 15,910 miles on it.  Another 2011 Sienna in our group had a window seal come off, making it impossible to close the window until we pulled over to fix it.  The power doors on the third Sienna weren't functioning, despite the PWR DOOR OFF button not being depressed.  All of these shortcomings were made up for in the feature count.  Our volume-selling LE8 V6 FWD model had two power sliding doors, a backup camera, tri-zone climate controls, Bluetooth connectivity, and XM radio.  It even had an airbag for the driver's knees!
The drivetrain surprised me a little – in good and bad ways.  The engine sounded great and pulled wonderfully.  With a full load, I never exceeded 3500RPM while accelerating up a 7% grade at highway speed.  However, the 6 speed automatic transmission had ADD – it never stayed in a gear longer than a few minutes.  It was constantly downshifting for no reason.  It'd probably kick down a gear if you sneezed too hard.  After downshifting, the power would come on and the van would shoot forward unless you took your foot off the gas.  This made for some annoying hunting and lurching.  I don't understand why this happens, since the Sienna and my 2000 Odyssey have similar RPM's in top gear, and my Odyssey doesn't exhibit this behavior.
The lurching was magnified by an idiotic Grade Logic algorithm.  The transmission shifts only when heading uphill, but stayed in top gear going downhill.  I was constantly adjusting both pedals to maintain speed.  Luckily, the brakes on the rental weren't warped.  Usually, if the brakes have a warping issue, it would have cropped up by 16K miles.  This inspired a lot of confidence going down White Pass, which was blanketed in dense white fog.  The suspension stayed sure footed and didn't exhibit the typical floatiness of Toyota's.  The steering was numb and too sharp on center, but it was nicely weighted at speed.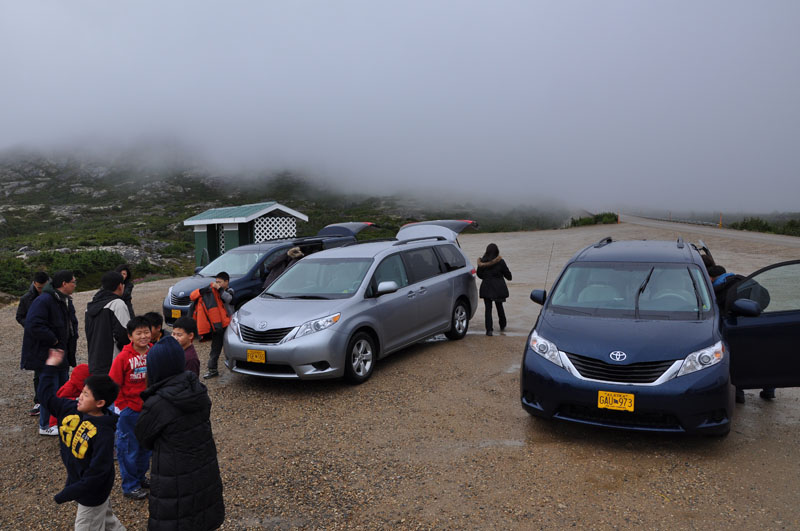 While the ride was not particularly harsh, it wasn't particularly good either.  This is odd when you consider that our tester had two things going for it: 1) it was loaded with people, which helps the ride, and 2) it had 17" Michelin Primacy MXV4 tires, which rate extraordinarily high in ride comfort and noise comfort on Tire Rack surveys.  I imagine that models with the optional 18 and 19 inch wheels have an unacceptable ride/handling tradeoff, especially if equipped with run-flat tires (AWD models).  There was also a lot of tire thrum and slap coming into the interior over various surfaces.  It seemed to have more road noise than I remembered in other vans.
All in all, the new Sienna is a decent van.  It has some shortcomings but the typical driver would be hard pressed to notice them.  My occupants – including my extremely-critical dad – never uttered any discouraging words about the van. The most stunning feature of this van that everyone is sure to appreciate?  Despite climbing White Pass with 8 passengers, long periods of idling and constant stop-and-going for roadside pullouts, it clicked off an astonishing 25.73mpg roundtrip.  Personally, I'd say the gas mileage is the most impressive feature on this van, one that Toyota should be applauded for.